Repealing Human Rights Act could jeopardize Northern Irish peace deal – Amnesty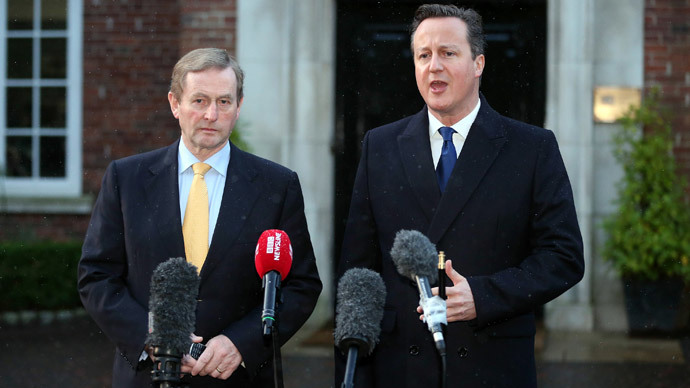 The Conservative Party's plans to scrap the Human Rights Act could undermine peace in Northern Ireland, Amnesty International has warned.
Amnesty International chiefs have written to Britain and Ireland's prime ministers, expressing "deep concern" over the Conservative Party's plans to repeal Britain's Human Rights Act of 1998 and replace it with a self-styled British Bill of Rights.
The signatories said the move "could have serious implications for Northern Ireland's peace settlement" and might undercut "public confidence in the new political and policing arrangements" that stemmed from the 1998 Good Friday Agreement.
READ MORE: Tories' repeal of Human Rights Act will spark constitutional crisis, erode civil liberties – experts
The Northern Irish peace agreement compelled Britain to integrate the European Convention of Human Rights into Northern Irish law, a process that was cemented by the Human Rights Act.
Since 1998, all legislation created by the Northern Ireland Assembly must be compatible with the Human Rights Act.
Policing policies in Northern Ireland, introduced in the wake of the Good Friday Agreement, also rely heavily on the Act as well as the European Convention on Human Rights (ECHR). Amnesty International says trust in these "policing structures" in Northern Ireland since the troubles came to a close is a "key success of the peace process."
Amnesty International UK Director Kate Allen said the peace agreement is "the cornerstone" of "a more peaceful Northern Ireland."
"The Human Rights Act not only fulfills one of the UK's key obligations in the Agreement, but is crucial to ensuring public confidence in the new political and policing arrangements," she said.
READ MORE: Human rights debate in Britain is 'regressive' – Scottish watchdog
"Given the history of political discrimination and mistrust in policing in Northern Ireland, binding human rights obligations have been crucial in building and bolstering public confidence in these key structures post-Troubles."
Allen warned public confidence in the peace process is fragile and could be eroded quite easily.
"Any scrapping of human rights commitments could have serious implications for Northern Ireland's peace settlement," she said.
Amnesty International Ireland Executive Director Colm O'Gorman said the agreement was backed on "both sides of the Irish border."
He insisted the Irish government must defend "the integrity of the Agreement" and rail against the erosion of "human rights protections" that are central to the settlement.
"We welcome the Irish government's expressions of concern at the UK's proposed repeal of the Human Rights Act, and the minister for foreign affairs and trade's stating he will raise this with Northern Ireland Secretary Theresa Villiers," he said.
O'Gorman called upon Ireland's PM to put pressure on his British counterpart to ensure that "hard-won progress" in Northern Ireland is not jeopardized.