Oxford University head condemns sexual harassment on campus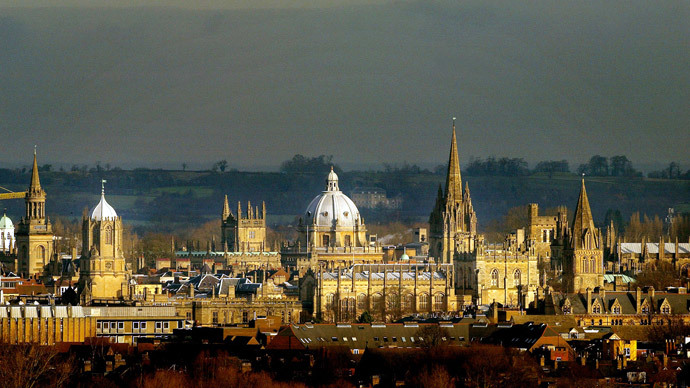 Sexual harassment and intimidation is widespread at Oxford University student parties and its social areas, according to the principal of Somerville College Dr Alice Prochaska.
The college head sent an email to undergraduate students saying that women across the university were facing "excessively harassing and intimidating behavior," the Times reported.
The email follows reports of rape jokes, students coerced into sexual activity and harassment at the university.
"Rape is not a joke," Dr Prochaska wrote, "as those who have been victims of it could tell you."
"Any level of sexual harassment is also not a joke; it is not acceptable that members of the college and their friends should be made to feel uncomfortable and disrespected here."
READ MORE: Revenge porn offenders could face 2 yrs in prison
Her email comes a matter of weeks after an Oxford student waived her right to anonymity following a sexual assault in order to demonstrate that attacks are not the fault of victims, but that of the perpetrator.
Ione Wells wrote an open letter to highlight her case, which started the hashtag #NotGuilty, an online campaign aimed at encouraging students to speak out about sexual attacks.
Prochaska also wrote in her email that she had heard reports of "rude and sometimes threatening behavior on a scale unprecedented in my time as principal."
President of the JCR Shyamli Badgaiyan said: "Somerville has always been a very open, accepting community: one that values tolerance and respect in all aspects of student life.
"Although very rare, these incidents of harassment and intimidation shocked many of us. I can confidently say that the vast majority of the student body deems them as absolutely unacceptable.
"As a JCR, we decided to follow the principal's lead by condemning these acts at an extraordinarily well-attended emergency student meeting and donating to the Oxford Sexual Abuse and Rape Crisis Centre as a symbol of solidarity and support."
Badgaiyan said more needed to be done at a national level to tackle the issue.
"While it's extremely sad that these incidents have occurred here, I believe it is a symptom of a wider, societal problem that needs to be addressed immediately.
"This itself is the real Somerville culture – not our immunity from these rare instances, but our ability to stand up and face them with courage and solidarity."