Revenge porn offenders could face 2 yrs in prison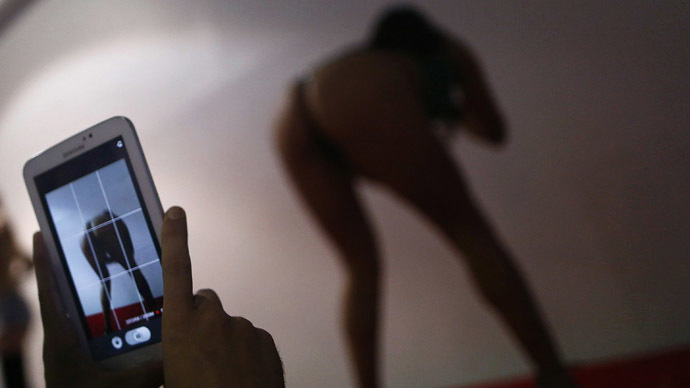 Spiteful ex-partners who share "revenge porn" without consent could now face up to two years in prison under new legislation.
The new law comes into force on Monday, when sharing "private, sexual images of someone without consent" via text, email, social networks and messaging apps can lead to two years imprisonment.
The new offence, which is part of the Criminal Justice and Courts Act, also applies to those sharing explicit images offline.
Anti-revenge porn campaigners have welcomed the law, amid fears young people are "risking their privacy" by sending explicit images to each other.
Prosecution for revenge porn has been possible under other laws such as the Communications Act, Malicious Communications Act, and the Protection from Harassment Act.
However, the creation of a specific offence is designed to signal the behavior is entirely unacceptable.
Thank god a law is coming in on #RevengePorn

— Diane Abbott MP (@hackneyabbatt) April 13, 2015
The Crown Prosecution Service said the law covers "images that show the genitals but also anything that a reasonable person would consider to be sexual."
Pictures that show someone "engaging in sexual behavior or posing in a sexual way," are also included, the clause added.
"It is an offence for a person to disclose a private sexual photograph or film if the disclosure is made … without the consent of an individual who appears in the photograph or film," according to the law.
#Revengeporn is now illegal - if you've found naked images of yourself online here's what you can do about it: http://t.co/sa7WX3eLzG

— TheSite.org (@TheSite) April 13, 2015
#revengeporn criminalised as from today. Offenders could serve up to 2 years in prison. Great news!

— Natalie Denny (@xXNat85Xx) April 13, 2015
Jef McAllister, managing partner of law firm McAllister Olivarius which represents revenge porn victims told The Metro: "The law ONLY covers those who forward or share (for instance, by liking on Facebook) images or videos."
Nonetheless, McAllister says there is "no law against receiving images," but if you share them "you could be breaking the rule."
So pleased to hear that #revengeporn is finally illegal! Sad that there are so many who have already been affected. Such a horrible act.

— Hollie Astle (@Holliem003) April 13, 2015
"Simple rule: if you get an image like this, delete it and don't forward," he added.
This law was put into force shortly after high-profile leaks featuring celebrities emerged online, which went viral on social media.
Campaigner Hannah Thompson, 22, told Sky News she thinks the new law is a "huge step forward."
Thompson explained she was once a victim of revenge porn, and spent months "agonizing over it," believing it was her fault.
The new legislation "empowers victims and clearly displays that they are not at fault," she said.
"What are you in for?" "Murder." "Money laundering." "Robbery." "I handled a breakup pretty badly…" #revengeporn

— Steve Curtis (@curtisteve) April 13, 2015
In November 2014, Luke King, 21, was jailed for 12 weeks for sharing explicit photos of his ex-girlfriend on WhatsApp.
King was the first person in Britain to be prosecuted for the offence under the existing laws.
READ MORE: Revenge isn't tweet: Twitter cracks down on 'revenge porn' abusers
Eight police forces in England and Wales have reported 149 allegations of revenge porn in the two and a half years to September 2014.
The majority were reported by women. Only six resulted to any kind of charge or police caution.
Justice Secretary Chris Grayling said: "Crime has fallen, serious offenders are going to prison for longer and now we have changed the law to deliver tougher and swifter justice for victims."
"As well as bringing in a range of vital new offences and other important legal changes our reforms are strengthening sentencing powers to provide better protection for our communities."