Scottish showdown: SNP leader Sturgeon & PM Cameron to hold talks
Published time: 14 May, 2015 16:05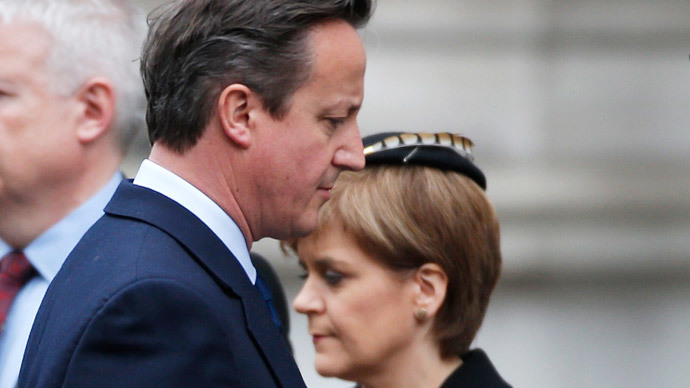 Devolution and Tory plans to scrap the Human Rights Act are expected to be on the agenda when Prime Minister David Cameron and SNP leader Nicola Sturgeon hold official talks on Friday.
With both politicians basking in their respective electoral successes, the meeting is billed as a clash of ideological titans, as Sturgeon, whose anti-austerity rhetoric now almost entirely dominates Scottish politics, faces off with the Tory PM.
READ MORE: SNP issues fresh demands as nationalist MPs descend on Westminster
READ MORE: Tories' repeal of Human Rights Act will spark constitutional crisis, erode civil liberties – experts
Sturgeon, whose party won 56 of 59 Scottish seats, will be determined to ensure the fullest possible devolution of powers by Westminster to Scotland.
"Public spending and the protection of Scotland's budget will be key issues on the agenda when we do meet," said Sturgeon.
"The issue of more powers for the parliament must form part of our discussions."
"If the PM and his government mean what they say about respecting the outcome of the election in Scotland, they must now agree with us a process which looks again at the Smith Commission proposals, with a view to extending devolution even further and that is a process that must be made here in Scotland."
Another issue to be discussed could be the Tory pledge to scrap the Human Rights Act, a suggestion which has caused uproar north of the border.
The fear of such a move is shared by the SNP's Labour rivals.
Scottish Labour's Deputy Leader Kezia Dugdale echoed the Nationalist's view at Holyrood on Wednesday, saying: "These benches will do everything that we can to oppose any attempt that the Tories make to scrap the Human Rights Act.
"Enacted in the early days of a fresh Labour government full of hope and aspiration for the future, the Act embodies the civil and political rights which are fundamental to any liberal democracy."
Cameron has said his aims include "governing with respect and implementing devolution."
On the topic of a second referendum, Sturgeon warned Cameron in the Daily Record on Wednesday that he could not "rule out a referendum against the will of the people. It will be the people who decide."
The meeting is due to take place in Scotland on Friday.