SNP issues fresh demands as nationalist MPs descend on Westminster
Published time: 11 May, 2015 16:34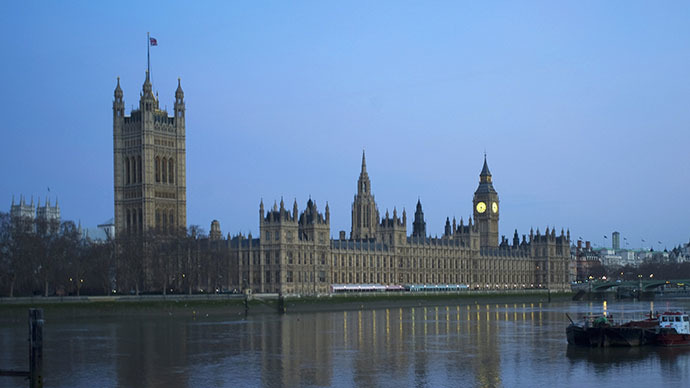 The Scottish National Party's (SNP) new intake of 56 MPs arrive in Westminster on Monday, raising fresh questions over what role they will play in parliament over the next five years.
Scottish First Minister and SNP leader Nicola Sturgeon met the group outside parliament alongside former SNP leader and recently elected MP Alex Salmond.
After enjoying unprecedented success in last week's general election, the SNP is now the third-largest party in the House of Commons.
As a potential sign of things to come, senior figures in the SNP have already hinted they expect new parliamentary privileges given their increased share of seats.
Such privileges could include having chairmanship of two select committees and two questions at prime minister's questions.
The SNP have an interest in green energy, in particular wind power, and so they could chair the energy committee.
There are also claims that Alex Salmond could join the intelligence and security committee (ISC) as he is also a member of the Privy Council.
Here are the SNP MPs. There is quite a lot of them. #Jockalypsepic.twitter.com/lg4glDCz9t

— Jamie Ross (@JamieRoss7) May 11, 2015
The SNP believe they will be entitled to a seat on every select committee in parliament. However they may end up trading seats on English-only policy areas in return for more influence on defense and business.
Salmond has also called for the Scottish Office to be scrapped, urging the government to respect the "democratic choice" of Scotland.
"Abolish the Scotland Office altogether and demonstrate some understanding of the fundamental change that has taken place in Scotland," he wrote in The Courier.
On the issue of a second independence referendum, SNP leaders have publicly denied pursuing a fresh plebiscite in this parliament.
SNP leader Nicola Sturgeon, who does not have a seat in Westminster, addressed the issue in an appearance on ITV's daytime television show Loose Women on Monday afternoon.
READ MORE: SNP Scottish victory 'a vote against austerity' - Sturgeon
READ MORE: 'Scottish lion roars': SNP win 56 out of 59 Scottish seats, humiliating Labour
READ MORE: http://rt.com/uk/257517-nigel-farage-withdraws-resignation/
Sturgeon said the SNP was not proposing a second referendum and that something would have to change for the party to demand another vote.
However, she added that Prime Minister David Cameron was wrong to rule out a second referendum.
She told ITV: "I'm not planning another referendum. Why I stopped short of saying 'I absolutely guarantee it' is for the same reason I don't think David Cameron's got any right to rule it out."
"Whether there's another referendum or not is really down to what people in Scotland want. There can't be another referendum unless people vote for it; I can't impose it on Scotland."
Cameron has publicly voiced his opposition to another plebiscite on Scottish independence.
He told The House magazine last month: "I believe it's settled. I quote Alex Salmond, 'settled for a generation, possibly for a lifetime,' is what he said.
"And I'm sticking with that. I think there was a very big debate in Scotland, a very big moment, a very big turnout. But it was pretty decisive, a 10 point margin is pretty decisive."
Some pundits have compared the SNP's election victory to the 1874 election, which saw the rise of Irish nationalist MPs at the expense of the Liberals.
In subsequent elections this group of MPs was led by Charles Stewart Parnell, a man the former SNP leader Alex Salmond has likened himself too.
While Parnell did not succeed in gaining home rule for Ireland, his skillful politicking and manipulation of the Westminster system – which included filibustering to drag parliamentary sessions out for days – significantly raised the profile of the Irish cause.
An SNP source told the Sunday Herald that the party will not run a guerrilla-style operation at Westminster, instead being "fully engaged" to extract the maximum influence and put pressure on the government to adopt SNP measures.
"The Scottish lion has roared this morning across the country," Salmond said, after defeating the Liberal Democrats in Gordon constituency last week.
It remains to be seen how this roar will impact on Westminster, the heart of British politics and the very institution the SNP would eventually like to separate from.