SNP Scottish victory 'a vote against austerity' - Sturgeon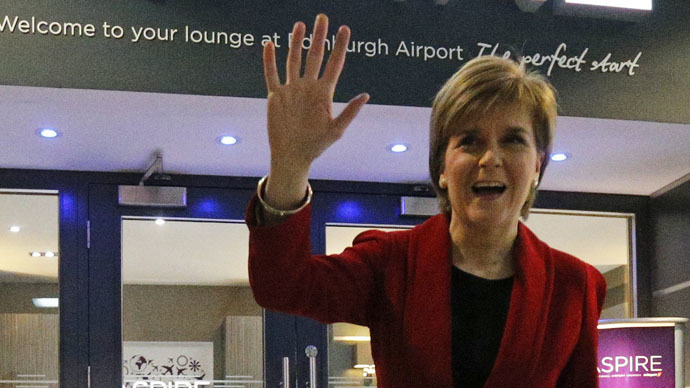 ​Nicola Sturgeon insists Thursday's vote in Scotland was an "overwhelming vote against continued austerity," following a landslide victory for the SNP north of the border.
Speaking to The Guardian on Friday morning, the SNP leader said austerity was a leading focus of the party's manifesto throughout the campaign race and will be top of its agenda in Westminster.
READ MORE: 'Scottish lion roars': SNP win 56 out of 59 Scottish seats, humiliating Labour
The SNP conquered what used to be a Labour stronghold in the North. 20-year-old Mhairi Black's electoral victory drew widespread attention across the UK, as she won a seat in Paisley and Renfrewshire South. The SNP member and studentdefeated Labour's campaign chief Douglas Alexander, and became England's youngest MP since 1667.
"Clearly there is an appetite for change in Scotland, and there is a desire for Scotland's voice to be heard much more clearly. That's now the job of those 56 Scottish Nationalist MPs," Sturgeon said.
The Conservative austerity measures prompted Sturgeon to headline her campaign with "end austerity," and "lock David Cameron out of Downing Street." Following the Tory victory at the polls she said she was "bitterly disappointed that we're looking at another Conservative government."
Sturgeon played down her influence in Labour's defeat across the UK and was adamant that the Tory majority has "nothing to do with what happened in Scotland. It's everything to do with the fact Labour weren't strong enough in England."
READ MORE: Broken Britain: How mainstream parties are dismantling the welfare state
The SNP challenged Ed Miliband's party throughout Scotland, failing to win in only three constituencies and inflicting what the Telegraph called a "total Labour wipeout."
The Liberal Democrats also finished with an embarrassingly low count, prompting the resignation of leader Nick Clegg. The Lib Dems lost 48 of the seats they held in the last parliament.
Ed Miliband also announced his resignation as Labour leader, and Nigel Farage will no longer lead UKIP following his loss to the Tories in South Thanet.
As a result, the SNP are now the 3rd largest party in the House of Commons. Sturgeon said she will now set about using that influence to ensure her party gets "the policies that are in Scotland's interest."
Austerity was at the forefront of many of the nationalist parties' manifestos, while Cameron was keen to emphasize the need to eliminate the deficit. Sturgeon played down the idea that the SNP victory was a move toward another Scottish independence referendum.
You can share this story on social media: