​British jihadist brides on run from ISIS, trying to return to UK
Published time: 14 May, 2015 12:21
Edited time: 14 May, 2015 12:35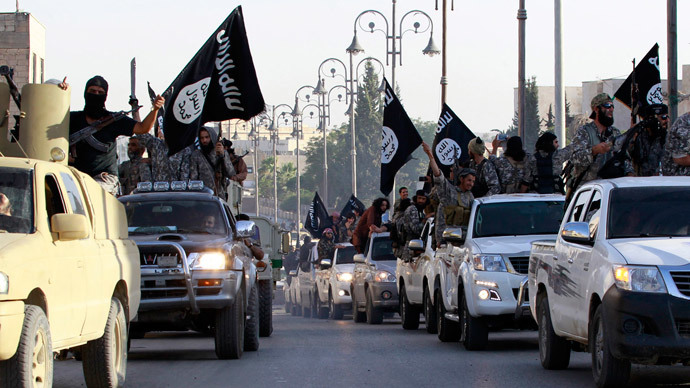 Twin schoolgirls who fled Britain to become jihadist brides in Syria could be trying to escape from the Islamic State (IS, formerly ISIS/ISIL) and return home, reports claim.
Zahra and Salma Halane, 17, are thought to be among three teenage girls who have reportedly escaped from the Islamic State in Mosul, Iraq.
IS militants are now allegedly hunting for the girls after they fled from their husbands in Iraq, the Daily Mail reports.
The girls told their father Ibrahim, 52, that "everything has changed," according to the Sun.
They are allegedly trying to flee with a third jihadist bride, the paper adds.
"The girls say they are not happy there anymore. Their dad said he is expecting good news very soon," a source close to the family told the Sun.
"He understands police will want to speak to them, but they have not been fighting."
READ MORE: Medic student who joined ISIS 'to treat jihadists' wants to go back to UK
READ MORE: UK politician's son among 9 arrested for trying to enter jihadi controlled Syria
READ MORE: Gay Muslim men joining ISIS risk execution – reports
The girls disappeared from their home in Chorlton, Manchester last July. Police believe they were radicalized online and by their brother Ahmed, who had traveled to Syria to join the terrorist group.
When the girls reached IS-controlled territory they married fighters. They reportedly became widows after their husbands were killed in battle.
Earlier this year, a girl posted a picture of herself in a full veil posing with an AK-47 and kneeling in front of the IS flag on a social-media account believed to belong to Zahra.
The Somali-born twins, who went to school in Greater Manchester, could be trying to reach the Turkish border or Kurdish-controlled areas.
However, the British government is discussing new laws that could prevent Britons who travel to Syria and Iraq to join militant groups from returning home.
In an interview with ITV's Good Morning Britain, Home Secretary Theresa May said: "We look on a case-by-case basis, and people have come back – youngsters who have gone there and suddenly realize what a mistake they've made."
Mosul Eye, a blogger in Iraq, revealed on his Facebook page the girls had fled on May 2. "Three girls, (Foreigners – British) married to ISIL militants, reported missing, and ISIL announced to all its check points to search for them. It is believed that those girls have escaped," he wrote.
In a later post he said: "The latest info I got on them is they are still on the run, but still in Mosul, and ISIL is thoroughly searching for them and hasn't captured them yet.
"They are Brits, not immigrants, and they are very young teens (around 16 years old). That's all I have about them for now."
The director of International Security Studies at the Royal United Services Institute, Raffaello Pantucci, said if the girls are caught, they may face execution.
"If you look on past form, [the Islamic State] have jailed people … or they've simply executed them," said Pantucci.
"I can't think of cases where they have executed jihadi brides but it's possible they could execute them too.
"What we don't know is what they're being accused of or why they ran away, whether it's apostasy, abandonment, or adultery from their husbands, it's difficult to know exactly what is happening."
Initially, reports that IS was looking for three runaway jihadist brides were linked to the three underage British schoolgirls from Bethnal Green, East London – Shamima Begum, Amira Abase and Kadiza Sultana – who also fled the UK to go to IS-controlled areas.