Gay Muslim men joining ISIS risk execution – reports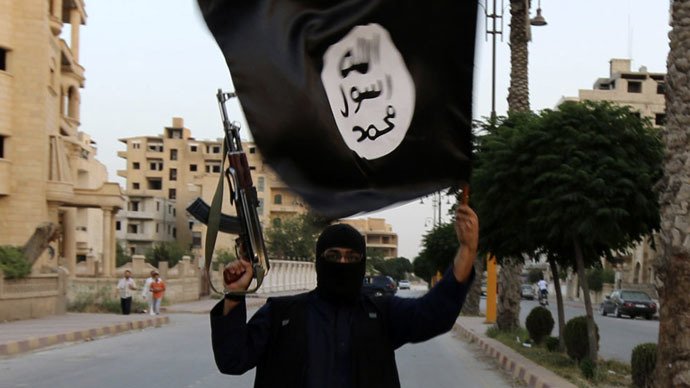 Shunned in British Muslim communities due to intolerance, gay Muslim men could be driven to join ISIS, reports suggest. As homosexuality is considered a sin by the militants, these men could face execution if their sexuality is revealed.
The Times reports that a British jihadist fighter has exchanged intimate, homosexual messages with other militants. The correspondence was uncovered during a counter-terrorism investigation.
Experts say intolerance and lack of acceptance in British Muslim communities could send young, gay Muslims into the arms of the Islamic State (IS, formerly ISIS/ISIL) out of despair for being outcasts in their own homes.
"In a sense it should come as no surprise that radical Muslims can have suppressed feelings as much as any other section of society," an anonymous source told the Times.
However, this would mean that gay ISIS members risk their lives every day as jihadist consider homosexuality a mortal sin.
READ MORE: ISIS executes four men for homosexuality, blasphemy - reports
The role of homosexuality in militant groups has not been investigated in-depth as of yet. Very few gay Muslim men and women that have come out publicly, as homosexuality is still considered taboo.
Over recent months, reports have emerged of cruelties committed at the hands of ISIS jihadists against gay men, including throwing them off rooftops and stoning them to death.
Homosexuality is forbidden in the majority of Muslim societies and is considered a sin by many, including the jihadists themselves. They claim the Prophet Mohammed said it should be punished with death.
Earlier this month, it emerged the Hisbah religious police set up a special brigade of young fighters who are tricking gay men into dates so the Islamists can 'prove' they are homosexual.
An anonymous source told the Daily Star the religious police are trying to eradicate homosexuality in Iraq, Syria and Libya, which is haram (banned) in Islam.
READ MORE: ISIS releases video of Yemeni soldiers execution – report
"They set up dates to coax them into being arrested and executed," the source said. "Sometimes the men are lucky if they have money and can pay a ransom, but often they are taken straight to their deaths."
In January this year the group released photos that allegedly show militants executing gay men by throwing them from the top of a tall building in Mosul, Iraq. The caption for the photos said "The Muslims come to watch the application of the law."
Some images released by the IS suggest that once caught, homosexual men are hugged and embraced by their fellow militants and told their sins are forgiven, only to then be stoned to death right after in a cruel turn of events.
Briton shot fighting ISIS
On Tuesday it was revealed a young British man who quit his job and traveled to Syria to fight against ISIS was shot in a gun battle with militants, but says he still wants to stay in Syria.
Video gamer Jac Holmes, 22, from Dorset, joined the Kurdish People's Protection Units (YPG) to fight against the IS, despite his friends and family begging him not to.
"I got sick of seeing what was going on while the British government and the rest of the West did nothing and most people knew nothing of the situation in the region, so I took it upon myself to come out here and do whatever I could to assist the people in their struggle," he told the Daily Mail.
Konstandinos Erik Scurfield, 25, from South Yorkshire, became the first Briton to be killed fighting the IS in Syria, after being caught in mortar fire on March 2. He had joined Kurdish forces fighting against the jihadists.