ISIS executes four men for homosexuality, blasphemy - reports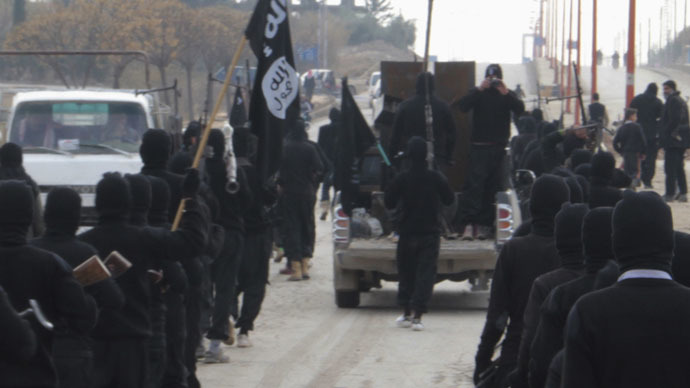 Islamic State (IS) militants have publicly beheaded two men for alleged homosexuality and one more accusing him of blasphemy in northern Iraq, according to photos published on social media Tuesday.
The images show an alleged public execution of four men in in Nineveh province in northern Iraq – a territory which has been under control of IS extremists since June 2014. The images, which RT will not publish for ethical reasons, do not show the actual beheading. RT could not verify their authenticity. The photos show blindfolded men kneeling in a town square with a crowd of people gathered around them.
The jihadists summoned the residents of the al-Rashidia district, in northern Mosul, to watch the execution of four young people, all aged between 20 and 30 years on Monday, a local administration official, Mohamed al-Faris, told Efe news agency.
In the photos, several masked men stand next to the accused, while an elderly man reads some notes, apparently the indictment. Al-Faris identified the man as an "Islamic State religious judge" Taha Yasine.
Other photos show a man's head prior to the beheading, tilted forward with the executioner's sword poised over his neck.
The photos were accompanied by text that said the two men were beheaded for engaging in homosexual acts and the third for alleged blasphemy. The local administration official said that the men were executed as Islamic State supporters chanted religious slogans and shouted, "God is great!" He added that some citizens tried to flee the scene after witnessing the beheading.
The report is the latest in a series about similar incidents. On January 6, IS militants killed four young men by throwing them off a tall building in Mosul, according to a video of the event posted on social media. The men, aged between 18 and 26, were accused of homosexuality as well.
READ MORE: Caliphatebook: ISIS social network 'created, brought down' in one day
Militants from Islamic State (also known as ISIS or ISIL, an Al-Qaeda offshoot group) control territory in Iraq and Syria and operate in other unstable regions of the Middle East, North Africa and Asia, such as in eastern Libya and the Sinai Peninsula of Egypt. The group has previously performed executions of Jordanian, Japanese, American, British and French hostages, which were filmed and published on social media. IS extremists are also said to have executed hundreds of civilians in militant-controlled areas of Syria and Iraq.
The jihadists have been using social media platforms to distribute the images and footage of their atrocities. According to a March report by the Brookings Institution, Islamic State supporters may be operating more than 46,000 Twitter accounts with an average of 1,004 followers.
"Our maximum estimate is in the neighborhood of 70,000 accounts; however, we believe the truth is closer to the low end of the range," wrote the report's authors J.M. Berger and Jonathan Morgan.
"Much of ISIS's social media success can be attributed to a relatively small group of hyperactive users, numbering between 500 and 2,000 accounts, which tweet in concentrated bursts of high volume," the study said.