Caliphatebook: ISIS social network 'created, brought down' in one day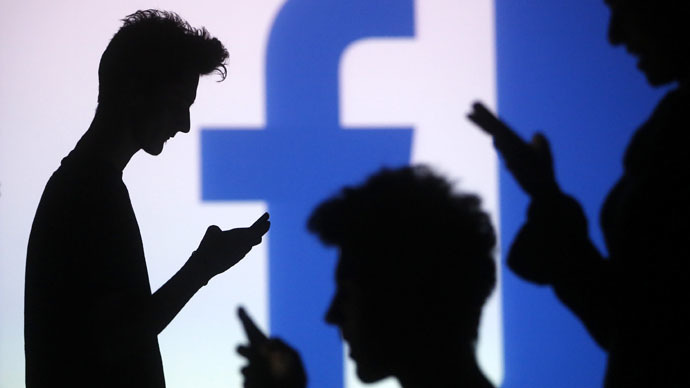 Following bans of Islamic State (IS, formerly ISIS) accounts on Facebook and Twitter, a new site called 'Caliphate Book' appeared on Sunday night. It had disappeared by Monday, leaving doubts as to whether it was a genuine IS project or merely a PR stunt.
Named 'Khelafabook' (5elafabook), after the transliterated Arab word for 'Caliphate', the page was reportedly created as an alternative for supporters of the IS, a group claiming parts of Iraq and Syria as an Islamic Caliphate.
After #IS currency, #IS air force, here comes the #IS 'Facebook', Khelafabook http://t.co/fxPZ6XX2p2pic.twitter.com/Wo3lC12Jxj

— маяковский (@moscow_ghost) March 9, 2015
The site was registered and hosted by the US internet provider GoDaddy, to the name of 'Abu Musab', who listed his home country as Egypt, but said he lived in "Mosul, The Islamic State," reported the Independent.
Mosul is a city in northern Iraq currently under IS control. 'Abu Musab' means 'father of Musab' in Arabic, possibly referring to the former leader of Islamic militants in Iraq, Abu Musab al-Zarkawi, killed by a US airstrike in 2006.
Not long after it was set up, however, the site went offline, with the hacker collective Anonymous claiming credit.
#Anonymous take down #ISIS social media website http://t.co/jWRnv1DP4H#OpISIS#RedCult@hkmjrm@DigitaShadow@V3ristpic.twitter.com/nx0sK4uJ3q

— ̶̲̅͠м̶̲̅͠ª͕̲͗̅͠ĵ͕͗ (@CyberRog) March 8, 2015
By Monday evening, the site was only displaying the following message: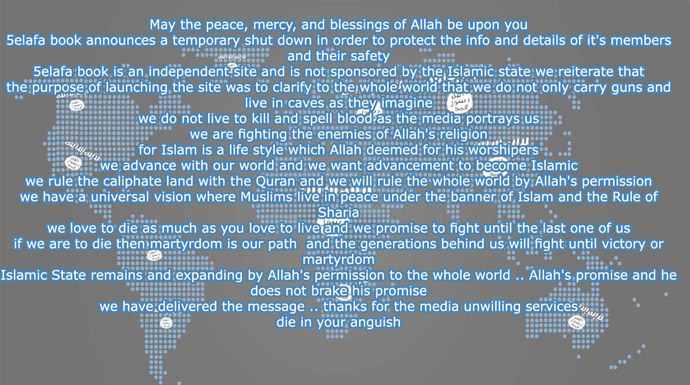 The fact that the page was set up on a shared hosting site, not built for massive traffic or security, has prompted speculation that '5elafabook' may have been just a publicity stunt, rather than an actual Islamic State social network project.
The appearance of 'Khelafabook' has also prompted some sarcastic reactions on Twitter. "It's better than Facebook because it has less game requests, fewer selfies & no couples," tweeted one user.
#ISIS opened its own social network, 'Khelafabook'. It's better than Facebook because it has less game requests, fewer selfies & no couples.

— GuruChat (@Guruchat) March 9, 2015
The recently published research by the Brooking Institute, a Washington-based think tank, concluded that IS supporters had anywhere between from 46,000 to 90,000 Twitter accounts.
The study concluded the group's use of social media enabled it to "exert an outsized impact on how the world perceives it." On average, an IS-supporter's Twitter account had about a thousand followers, "considerably higher" than regular users. Three-quarters of IS-affiliated users tweeted in Arabic, and one-fifth in English.
Twitter recently began banning ISIS sympathizers, prompting the group to call for beheadings of the network's employees. "Your virtual war on us will cause a real war on you," a statement attributed to the extremist group said in Arabic.
ISIS Supporters Issue Death Threats Against Jack Dorsey And Twitter Employees http://t.co/BZA2pYFNU3 via @TechCrunchpic.twitter.com/3epHVniUEJ

— Internet Pandas (@internetpandas) March 6, 2015
You can share this story on social media: