​All in this together? British MPs handed 10% pay rise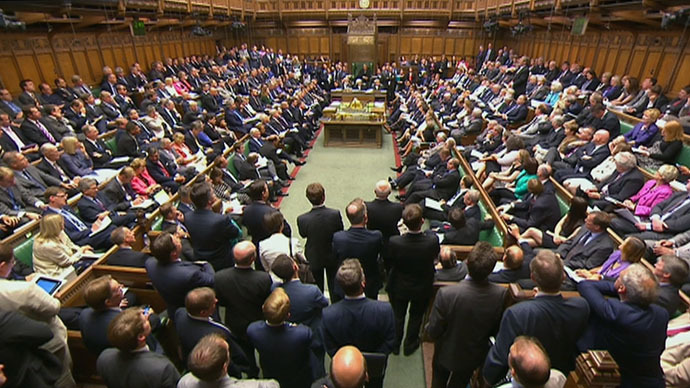 MPs' wages are set to rise from £67,000 to £74,000 – many times the national average – as it's revealed that 60 of them went on a spending spree, buying up iPhones, iPads and personal computers before the general election.
The pay hike, which was opposed by both Prime Minister David Cameron and his deputy Nick Clegg during the coalition era, was revealed by the Independent Parliamentary Standards Authority (IPSA).
The PM has not publicly reneged on his position, but reportedly lacks the power to change the ruling without first altering the law – a move which would anger backbenchers keen on the rise.
READ MORE: UK MPs to receive 11% pay rise amid rise in malnutrition and mental health cuts
The increase of £7,000 per year would also be backdated to May 8, the day after the general election.
"In December 2013 we reached a decision that, there should be a package of changes, including pension reform, ending resettlement payments and increasing MP's pay to £74,000," an IPSA spokesman told the Daily Telegraph.
"The pay rise was not implemented immediately. Any subsequent pay rise would be back-dated to 8 May 2015. IPSA was created by law to determine MPs' pay independent of parliament and government."
IPSA also reported that in the run up to the election a number of MPs bought substantial amounts of IT equipment on their taxpayer-funded expenses.
Sixty MPs ordered equipment – including iPhones, iPads and personal computers – worth over £70,000 and claimed back the expenses just six months before the election deadline.
The watchdog was concerned enough to write to them asking for assurances the equipment would be used for their work in parliament.
READ MORE: House of Perks: MPs claim record £103mn in expenses
Some MPs responded by saying they took exception to the request.
"Having looked into these claims, we are satisfied that they are within the rules," a spokesman for the watchdog said.
"This covers purchases made during September 2014, as the restrictions on capital purchases began on 30 September 2014.
"The total value of the purchases for all MPs in September amounts to £71,216.48. We have issued guidance to MPs that they should transfer these items to a successor, another MP or donate the equipment to charity."
IPSA has no authority to ensure that the equipment is given to charity.