Delays in costly 'white elephant' F-35 leave British skies 'vulnerable'
Published time: 11 May, 2015 00:41
Edited time: 11 May, 2015 14:59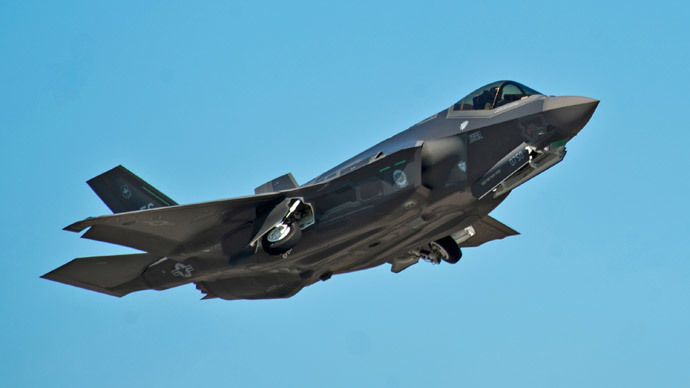 The spiraling costs and delayed delivery of the US-made F-35, coupled with the retirement of the Tornado fighters, will leave the UK's airspace with no protection and its air force capacity a "joke," according to a raft of senior officials.
The Royal Air Force has so far ordered eight of the fifth-generation jets to be delivered by next year. The jets were meant to enter service in 2012, but due to a never-ending series of hitches, that date has now been moved forward to 2018. Meanwhile, the cost of each plane has risen more than two-fold to over $130 million.

When asked by the Independent about whether the F-35 would be on patrol in UK skies in three years' time, Sir Nick Harvey, who served as the Minister of State for Armed Forces - the second most senior official at the Ministry of Defence (MOD) -between 2010 and 2012 rejected the possibility.
"Not a cat in hell's chance," Harvey said regarding the F-35. "I don't recall ... having heard anyone suggesting that these things could be used in combat before 2020."
The former senior defense official, and Liberal Democrat, also admits the problem was obvious when he was in government: "You could argue it was already one of the biggest white elephants in history a long time ago."
READ MORE: But does it fly? Government auditors blast poor F-35 engine performance
The delay is not the only issue, as according to Air Chief Marshal Sir Michael Graydon, a former Chief of Air Staff, the "unaffordable" cost of the plane means that Britain has made a "joke" of a "token order."

In total, Britain is projected to procure 138 of the jets from US manufacturers – but at current prices that would cost over $19 billion.

In effect, this means that once British Tornado jets – which have been in service since 1979 – are mothballed in three years, the UK will have an "offensive capacity" of only 60 planes.
"The Saudis were using up to 100 aircraft in their campaign in Yemen. We couldn't put 100 aircraft into the air to save our lives," Graydon told the Independent.

The MOD assures that it will be stepping up orders in the coming years.

"The UK is planning to order a further 10 F-35B aircraft over the next three years. The UK's aircraft are on schedule to have the warfighting capability required by the UK in 2018," it said in a statement.
READ MORE: Air Force general loses job for telling airmen lobbying to keep A-10 'is committing treason'
Even if these troubles are overcome, the record-breaking $400 billion program remains riddled with problems.

Following an engine fire during tests last year, the 131 F-35 jets are in the process of being refitted with new engines with improvised modifications. A Government Accountability Office report which came out just last month said their reliability remains "very poor (less than half of what it should be)." The jet's self-diagnosing and targeting software was also deemed inadequate earlier this year, requiring what are likely to be years of upgrades.

"This aircraft is massively expensive, and technically and operationally flawed," said John Marshall, from the Defence Synergia think-tank.
READ MORE: US to deliver F-35 jets to Israel to maintain military edge
"Our skies and seas are vulnerable. It is time to reassess our priorities for the defense and security of the UK," summed up Madeleine Moon, Labour MP for Bridgend, who has served on parliamentary defense committees.
The UK is not the only country waiting for the costly fighter jet to be fixed. US Vice President Joe Biden has recently promised a delivery of F-35s to Israel "next year," with reports that Tel Aviv has approved a new deal to add 14 more jets to its order for 19 aircraft made back in 2010.

Canada has also been having troubles with a botched replacement program of its CF-18 fighter fleet, with reports circulating that the country is going to either scale back, or reject altogether the planned purchase of F-35 jets.
READ MORE: $24 billion British budget blowout in black hole F-35 project