$24 billion British budget blowout in black hole F-35 project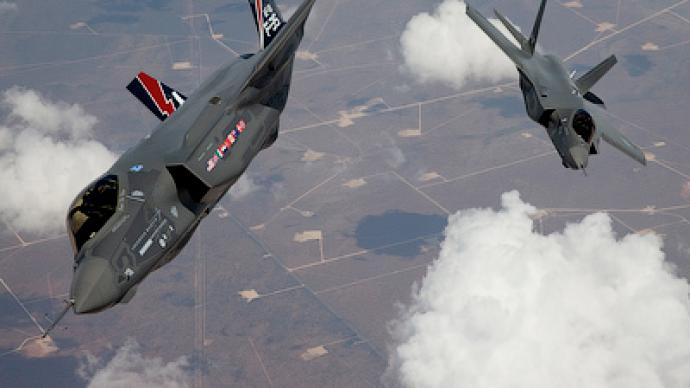 The UK is set to fork out £15 billion, or $24 billion, for the American Joint Strike Fighter program, whose total costs are set to exceed £900 billion ($1.4 billion) over the next 50 years, making it the most expensive military project in history.
The JSF stealth fighter jets, also known as F-35, are being developed and assembled by Lockheed Martin in the US. The JSF program is partly funded by Britain and seven other "partner nations".Each F-35 Lightning II stealth fighter jet will cost the UK around £85 million ($136 million), plus an extra £16 million ($25.6 million) for each engine.All in all, America's closest ally intends to buy 150 fighter jets for about £101 million ($161.6 million) each plane, although that is a substantial discount on the cost price.The first order the UK will place at Lockheed Martin is expected to be for one squadron, about 20 JSF aircrafts.Britain's outlay is much cheaper than the price tag for America itself. The development and construction of each of the 2,443 F-35 aircraft of all modifications will cost the US $618 million per unit.Nevertheless, the rise in expenses has sparked alarm in the British Ministry of Defence, which already has to do something about the cost of the future two British aircraft carriers. Initially estimated at £3.5 billion ($5.6 billion), the project cost has soared to £6.2 billion ($9.9 billion).Originally, the Joint Strike Fighter program included a short take-off and landing (STOL) version that London ordered for its future air-carriers. Then the Coalition decided to cancel the STOL modification, planning to buy cheaper version that uses catapults to start from a carrier. However, London found out this decision will cost it additional billions in converting the carriers under construction.British Ministry of Defence is currently considering returning to the STOL modification, which means negotiating with the US to finalize and start series production of the STOL F-35 model.Other nations that back the Joint Strike Fighter program are either reducing the number of F-35s on order, like Italy – which has already said it needs 90 F-35 aircraft instead of 131 – or remain thoughtful about the deal, like Australia and Canada.The Joint Strike Fighter program was set up by the US in 1993. In an effort to become the program's contractor, Boeing and Lockheed Martin each produced competing prototype aircraft. The race between the manufacturers was eventually won by Lockheed Martin, which began making the F-15 Lighting II jets for the program in 2006. The UK became a formal partner of the program in 2001 for $2 billion dollars. It was joined by Italy, which chipped in $ 1 billion dollars. The Netherlands, Turkey, Canada, Australia, Norway and Denmark all joined the program in 2002, each contributing over $100 million.
You can share this story on social media: