​'Politicians are puppets': RT explores why a 1/3 of Brits don't vote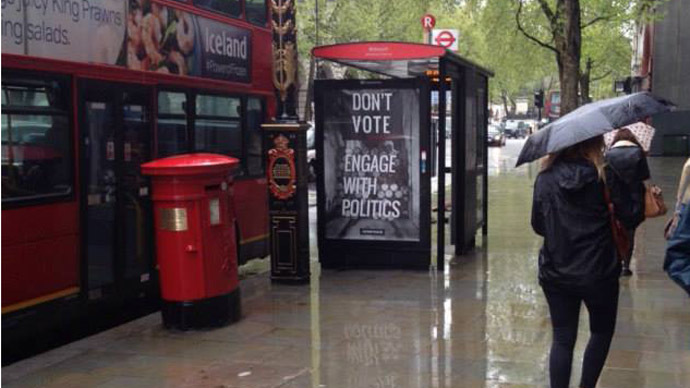 As millions of citizens in Britain headed for the polling both, a significant minority chose not to vote. RT explores the reasons behind the UK's widespread apathy.
Some 35 percent of the population did not vote in the last general election, a minority large enough to put any political party into power.
A survey by Survation in September 2013 took a detailed look at the attitudes of non-voters. When asked, "What would you say were your main reasons for not voting in the last the election?" over half of respondents expressed disillusionment with contemporary politics.
Some 27 percent of those polled said they "don't believe my vote will make any difference," while 25 percent said the "parties/candidates are all the same."
READ MORE: UK General Election 2015 LIVE UPDATES
Comedian-turned-activist Russell Brand made an already-famous volte face last week when he endorsed the Green Party and Labour after previously encouraging people note to vote in the general election.
While Brand was quick to change his mind when faced with a second Conservative government, many are not so easily swayed.
Those who don't vote have been branded "idiots" by media figures such as Jeremy Paxman.
In speaking to several young people who chose not participate in Thursday's election, RT found the exact opposite: intelligent, articulate, but deeply disillusioned non-voters.
Not voting isn't a 'protest vote' you are just an idiot.

— Emily Doyle (@EmilyDoyle97) May 7, 2015
The electoral system
Toby Charter, 19, told RT he would not be voting in the election.
"Basically I have registered but I registered at my home constituency and by the time I realized I wouldn't be home it was too late," he said.
"Also I had a choice between voting at home or at [university] but both are pretty predictable outcomes even with some swing so to be cliché, mine wouldn't really matter that much."
Asked what would have to change in order for him to vote in the next election, Toby said: "Probably the voting system itself."
"[A] change from first past the post to something like proportional representation, which would give better representation of votes and would more likely see a better majority."
Not voting doesn't make me an idiot so can people please get off their high horses and respect other peoples decisions

— Lu (@WheezyusMaximus) May 7, 2015
Charter is not alone. According to a survey by ORB, 61 percent of the British public are in favor of a more proportional voting system.
Among young voters, 68 percent of those surveyed backed electoral reform.
Political scientists Jack Blumenau and Simon Hix of London School of Economics have calculated the odds of this election producing a proportional outcome.
Writing in the Washington Post, Blumenau and Hix say there is a 61 percent probability the election will produce the least proportional Commons since the establishment of universal male suffrage in 1918.
A prime example of how disproportional the outcome could be is the UK Independence Party (UKIP).
UKIP are forecast to gain 14 percent of the popular vote and yet could win just two seats. The Scottish National Party (SNP) on the other hand could win just 4 percent of the UK vote, but gain 50 or more seats.
It's not really what people are voting for, it's what they THINK they are voting for that puts me off them...

— Morgane le Fay☾ (@morgancrawf) May 7, 2015
Lack of trust in politicians
One young woman, 21, who uses the Twitter handle @beni_jones expressed a deep mistrust in politicians.
"I have done much research to conclude that political leaders are merely faces for the great agenda being pushed by those in the 1 percent," she told RT, when asked why she was not voting.
"Also, I will not vote for the same politicians that are involved in the VIP pedophile ring in the UK's parliament."
With 51 percent of Conservative donations coming from the financial services sector, it is easy to see why politics appears to favor the rich.
Britain's political establishment has also been rocked by a series of scandals in recent years, such as the widespread abuse of taxpayer funded expenses by MPs.
If you want to remain a victim of this controlled, tyrannical system then continue to be. The agenda will still follow through.

— b e n i (@beni_jones) May 7, 2015
A suspected "VIP" pedophile ring which may have existed in the heart Westminster is the latest controversy to hit an already embattled political establishment.
"Of all the promises politicians have made, many have fallen through. Why? Because they do not meet the absolute agenda of complete control. Slowly we are forming into a totalitarian state that will further push us into the system of control and deep oppression," she said.
"Politicians are puppets and hold no value. What their parties promise are seldom met," she added.
I don't vote because I don't believe there's a party worth my vote. No other reason.

— jordan (@jordancowdrey) May 7, 2015
Jordan Cowdrey, 18, agreed: "Actions are louder than words, they say a lot but don't keep to it."
Labour leader Ed Miliband is so conscious of voter distrust that he commissioned an 8ft 6in stone with Labour's election promises inscribed on it to demonstrate his promises were permanent.
Labour MP Lucy Powell was quick to share her doubts about 'Edstone' with a BBC Radio 5 Live presenter.
"I don't think anyone is suggesting that the fact that he's carved them in stone means he's absolutely not going to break them or anything like that," she said.
If you are thinking of not voting don't be an idiot. At least go and draw a massive penis on your vote and give the counters a laugh.

— Daniel McAvoy (@danielmcavoy) May 7, 2015
Disillusionment
Some non-voters chose not to participate in Thursday's election because of a general sense of disillusionment with politics.
Cowdrey told RT he could not find a party he was "passionate" about.
"I do not feel that any party is worth a vote and the policies are never kept to by any party for whatever reason," he said.
Asked what would have to change in order for him to vote, he said: "I just need to be seriously passionate about a party. I'm not backing somebody I'm not committed too."
I'm not voting don't give a shit my vote won't make a difference the rich get richer that's all the idiot of politicians do #idiots

— ian pne bamber (@ianbamber1) May 7, 2015
Journalist Brendan O'Neill echoed Cowdrey's thoughts in a recent blog for the Spectator titled 'I'm not voting on Thursday — but don't you dare call me apathetic.'
O'Neill, who is editor of Spiked Online, said British apathy's underlying problem was a "lack of ideas to be sensitive or passionate about."
"For those of us who are seriously interested in big politics — not in simply finishing HS2 but in building flying cars; not in 'balancing the books' but in creating a futuristic world of plenty — the problem today is that we are technically enfranchised but politically disenfranchised," he wrote.
"That is, we have the vote, but we have little to vote on. Our ballot has been robbed of its clout."
"That's why many of us don't vote — not because we're unfeeling but because we feel politics is about more than this," he added.