​'Watch chaos ensue' if Tories attempt 'coup' – activists
Published time: 7 May, 2015 12:58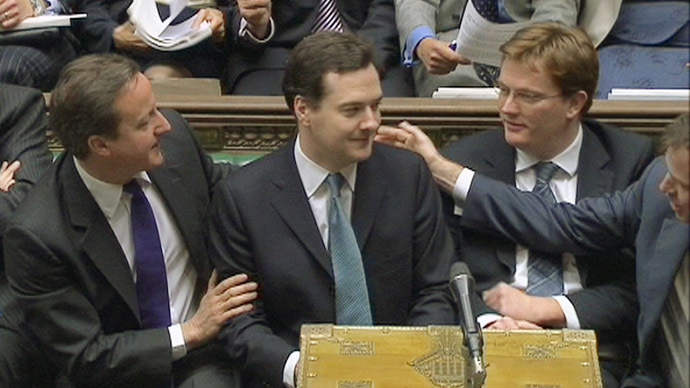 Activist groups are planning to take to the streets as rumors abound that David Cameron's Conservatives may be preparing an election 'coup' after labeling any Labour government propped up by the SNP 'illegitimate'.
Commentators have issued warnings in the wake of what they consider a sustained campaign by various influential newspapers to influence voters against a Labour/SNP pact.
The Guardian's Owen jones warned against "sleepwalking into a dangerous moment," while Adam Ramsey, co-editor of the Our Kingdom blog, said the Conservatives were cooking up "an attempt to delegitimize any partnership between Labour and the SNP."
READ MORE: UK General Election 2015 LIVE UPDATES
On Tuesday, the PM told LBC radio, "I just think that there's a massive credibility problem, with this idea that you can have a Labour government, backed by the SNP, only fighting for part of the country, I mean, the concerns of voters that I'm hearing about that are very, very strong."
Grass-roots activists say the threat of Cameron trying to hold on to power in the event he cannot gain a majority is very real.
"A pact is viewed as a threat, not because it is undemocratic, but precisely because it is possible within the constitution and is a real challenge to continued Tory policy," activist and actor Matt Houlihan told RT.
Asked if he thought the Tories were likely to engineer such a move, he referred to his time campaigning during the Scottish referendum last year.
"Given the dirty tricks played by the established parties in Scotland's independence vote, a Tory coup is possible."
Houlihan dismissed the framing of the SNP as far-left interlopers.
Nicola Sturgeon and the SNP propping up Ed Miliband? That means more taxes, more borrowing and debt - and you'll pay. pic.twitter.com/b5Tt5MJ1we

— Conservatives (@Conservatives) April 27, 2015
"Despite the atmosphere and smears in the Tory coordinated press, the SNP are far from a revolutionary horde threatening democracy," he said.
"They're a social democratic party with economic policy of a similar alignment to Labour policy on the deficit, for example."
According to Houlihan, the reason the SNP were being lambasted is less about their internal politics than the forces to which they are subject.
"They are vilified because there is a grassroots movement pushing them to challenge the Westminster status quo which has produced the policies we see causing severe decline throughout the UK, particularly in Scotland."
However, Houlihan argued that a rejection of any potential coup attempt by the political Right is not a signal that Labour offers the best alternative.
"Opposition absolutely does not equate to support for Labour, who are comparable to the Tories on many levels of practice and policy.
"It does equal support for a democratic process, which could result in a Labour government, if that is what the process justifiably leads to, it is the democratic framework which matters.
"This is the crucial reason a coup must be challenged. It fundamentally undermines democracy."
Activist Dan Cockroft from left-wing group Counterfire pulled no punches when he sketched the tactics he thought could be needed to head off and disrupt a coup.
READ MORE: Election deadlock: Who will rule Britannia after election?
He urged the "use all networks to mobilize mass disobedience and put pressure onto the unions to take strategic strike actions...i.e...air traffic control... tanker drivers... ports and docks."
Green Party member Jordan jones, 28, is less optimistic about the impact mass action could have.
"I'm actually pretty skeptical about protests. At least in my lifetime they have changed f*ck all," he said.
"I think any party which can help make Labour more progressive is a positive, although the SNP aren't exactly radical … but it wouldn't surprise me at all if the right wing lot pull off a coup."
"And the queen would allow it, too. Then watch chaos ensue."