Landlord MPs profit from lucrative rental market amid social cleansing
Published time: 6 May, 2015 17:07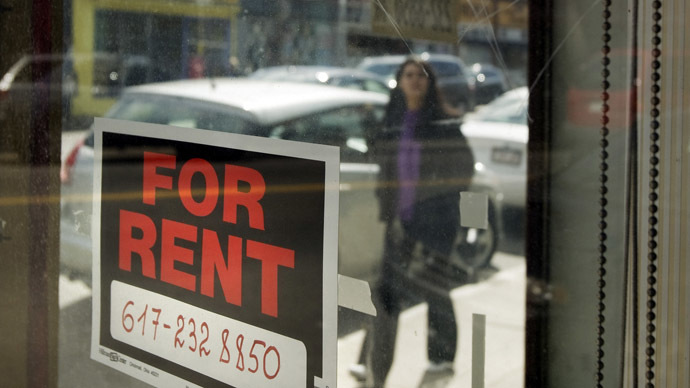 The number of MPs earning cash from Britain's rental market increased by almost 33 percent since 2010, new analysis reveals.
Prime Minister David Cameron, Chancellor George Osborne and housing minister Brandon Lewis are among a gilded group of 153 MPs who declared property-related income this year. This figure marks a dramatic increase of 36 percent since the Conservative-Lib Dem coalition came to power five years ago.
The analysis, published by the Guardian on Wednesday, reveals almost 25 percent of MPs pocket income as a landlord or landlady from at least one property.
It also shows a majority of these MPs are Conservative, and nine are Tory ministers serving in the cabinet.
Following the release of the Guardian's research, campaigners said the figures offer a damning reflection on a tired status quo that prioritizes the interests of Britain's political elite over the fundamental rights of tenants.
Alex Hilton, director of British campaign group Generation Rent, said the government is failing to tackle the exploitative aspects of Britain's rental market.
READ MORE: Broken Britain: How mainstream parties are dismantling the welfare state
READ MORE: 'The Left in Britain is sparse': Left Unity launch election manifesto in London squat
READ MORE: Homelessness in London soars by 79% since 2010 – report
"There has been a quiet cross-party consensus in parliament in favor of landlords for decades," he told the paper.
Hilton called for absolute transparency and absolute disclosure of all political representatives' property and land assets and a firm pledge to ban MPs from casting votes on issues they stand to make financial or personal gains from.
The nation's private rental sector has increased rapidly in recent years, and now boasts 4.8 million renters. Analysts suggest the sector's growth has largely been down to dwindling levels of social housing and soaring property prices.
Against a backdrop of social cleansing, rising rental prices and an ever-expanding army of people renting from private landlords, the housing crisis continues to trouble campaigners and policymakers alike.
As a result, it has been a hot general election topic, with Labour, the Greens and the Liberal Democrats pledging to cap further rent rises.
Scrutiny of Britain's register of members' interests reveals growing numbers of MPs have embraced the rental market as a source of revenue since 2010. According to the Guardian's analysis, 25 members of parliament who did not rent out property in 2010 began to do so in the years that followed.
Many of these political representatives rented out houses and apartments in southeast England, where the property market remains vibrant. However, critics warn some are renting out property that has been partially bankrolled by a generous expenses program that enabled them to clamber further up the property ladder.
Justice Secretary Chris Grayling is among the MPs profiting from the UK's rental market. According to the register of members' interests, Grayling has declared two terraced houses he lets out in London.
At the height of Britain's 2009 MP expenses scandal, Grayling was decried for purchasing a flat in Pimlico, south west London, the mortgage of which critics say was funded by taxpayers' cash.
But Grayling defended his purchases at the time, stressing they would not have saved taxpayers a penny.
Other ministers who collect rental income from tenants across Britain include Health Secretary Jeremy Hunt, Culture Minister Sajid Javid, Minister for Government Policy Oliver Letwin and Northern Ireland Secretary Theresa Villiers.
While the last Labour government's track record on affordable housing is a source of regret for its current leaders, the party pledged last week to reform Britain's social housing system to make it more affordable and transparent.
Under this policy shift, affordable homes – currently defined as anything up to 80 percent of market rent – would be linked to wages or house prices.
The party's last-minute pledge also vows to make secret deals between councils and private developers transparent to avoid developers using "smoke and mirrors" to circumvent building affordable homes.