Russell Brand 'thinks terrorism is funny' says Cameron, as comedian backs Labour
Published time: 6 May, 2015 14:16
Edited time: 6 May, 2015 15:13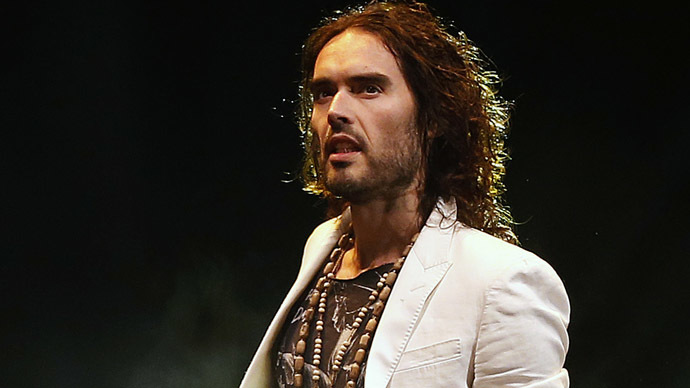 Prime Minister David Cameron called Russell Brand a "comic with a beard who thinks terrorism is funny" after the British comedian publicly announced his support for Labour leader Ed Miliband.
#PeopleNOTpolls: Join the conversation
In an interview with the Metro newspaper, Tory leader Cameron was asked what he would do to show young people they matter to politicians.
"Our message to young people in this election is, we're going to provide 3 million apprentices, we're uncapping university places," he said. "We're reforming welfare so there's a chance of a job or training rather than starting life on welfare. I think that's an attractive offer."
"Young people want to hear about things they want fixed in their lives that we can fix … rather than 'here's some comic with a beard who thinks terrorism is funny.'"
READ MORE: Party branding? Miliband spotted on late night visit to Russell Brand's house
READ MORE: Mili-brand: Comedian grills Labour boss in new episode of 'The Trews'
Cameron's comments came after Brand filmed an episode for his YouTube show The Trews together with Miliband.
After the episode aired, Cameron commented: "Politics and life and elections and jobs and the economy, it's not a joke; Russell Brand's a joke ... This is not funny. I haven't got time to hang about with Russell Brand."
Brand, who has previously said he would not vote and urged young people follow suit, announced his support for Labour leader Miliband on Monday.
"I know I've been Mr. Don't Vote," Brand said on Monday. "[But] what I heard Ed Miliband say is if we speak he will listen. You've got to vote Labour, you've got to get the Conservative Party out of government in this country."
Brand's support for Labour has been hailed as a turning point for Miliband, especially among young voters, as the gap between Labour and the Conservatives is narrowing.
Brand has now written a blog post to explain his change of heart.
"In the episode of The Trews in which I interviewed Ed Miliband there is no Damascene moment," he wrote on his website.
"I did not tumble back in a white beam of enlightened reverie, scales falling, realizing that the Westminster machine, with a different pilot will serve ordinary people. We decided to endorse Labour before we approached them for the interview."
"Ultimately what I feel, is that by not removing the Tories, through an unwillingness to participate in the 'masquerade of democracy,' I was implicitly expecting the most vulnerable people in society to pay the price on my behalf while I pondered alternatives in luxury," he wrote.
In the final hours ahead of Thursday's general election, Mayor of London Boris Johnson also made a joke at Brand's expense while visiting the Hendon constituency alongside Cameron.
"We have such a dynamic entertainment sector, assisted by George Osborne's tax breaks, that at one stage we succeeded in exporting Russell Brand to America. Although he seems mysteriously to have been returned," Johnson said.