Party branding? Miliband spotted on late night visit to Russell Brand's house
Published time: 28 Apr, 2015 09:29
Edited time: 28 Apr, 2015 10:55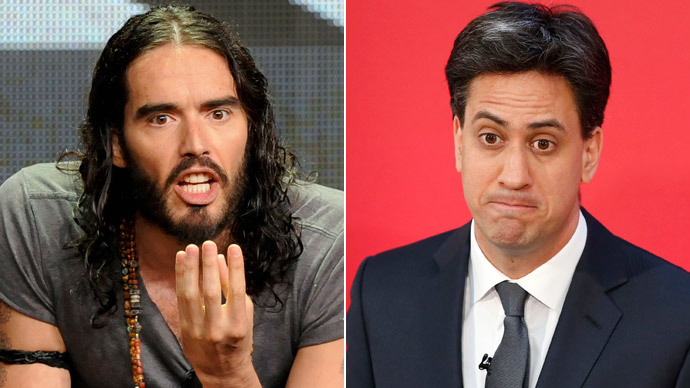 Labour leader Ed Miliband was seen leaving Russell Brand's house late on Monday night amid speculation the comedian and activist may come out in favor of the party in the final week of the general election campaign.
The leader of the opposition was spotted after a Twitter user posted: "A friend of mine lives opposite Russell Brand and snapped this picture of Ed Miliband leaving his house...urm."
A Labour spokesperson confirmed Miliband was present at the comedian's house to film an interview, adding that Labour is excited for the broadcast.
If Brand uses the video to come out in support of Labour, it will mark an abrupt change in his attitude towards Westminster politics.
The comedian has previously urged young people not to vote, suggesting they become activists for a cause rather than supporting "broken" political parties.
Miliband has previously objected to Brand's ideology, saying he wanted young people to be involved in the general election.
"I definitely want people to vote – and I want people to vote Labour, obviously – but it's really important that we engage people in the election.
READ MORE: Tory candidate suspended for Miliband Jewish slur
"People criticize Russell Brand, and I don't agree with his message, but what he's saying, a number of people are thinking, which is that politics doesn't feel like it speaks to them," he said.
While critics argue his ideas could be damaging to the electorate, Brand has garnered the support of 9.5 million followers on Twitter and a mass audience for his YouTube program The Trews.
Brand's self-styled 'revolution' would involve a radical overhaul of the current political system, whereby tax evaders and corrupt establishment officials would be held to account.
He has previously said: "There is a whole swathe of the country that thinks, 'I elect my government, you guys go and govern. Don't keep troubling me every three seconds with what I should think or shouldn't think.' They want to see their leaders leading."
If Brand does come out in favor of Labour, he will be the second celebrity to do so in as many days.
On Monday, internationally renowned physicist Stephen Hawking confirmed he would be voting Labour, and publicly backed the party's Cambridge candidate Daniel Zeichner.
"We're really pleased and we hope that people will take note," said Zeichner
"I think he fully appreciates the huge investment that the last Labour government made in science and you can see that in a lot of the buildings and laboratories around Cambridge.
"And many other scientists understand the city needs a Labour government to get the kind of investment we need again."
The scientist, who was recently the subject of the Oscar winning biopic 'The Theory of Everything,' is a well-known socialist. He has turned down the offer of a knighthood to keep in line with his views.