Mili-brand: Comedian grills Labour boss in new episode of 'The Trews'
Published time: 29 Apr, 2015 09:55
Edited time: 29 Apr, 2015 13:41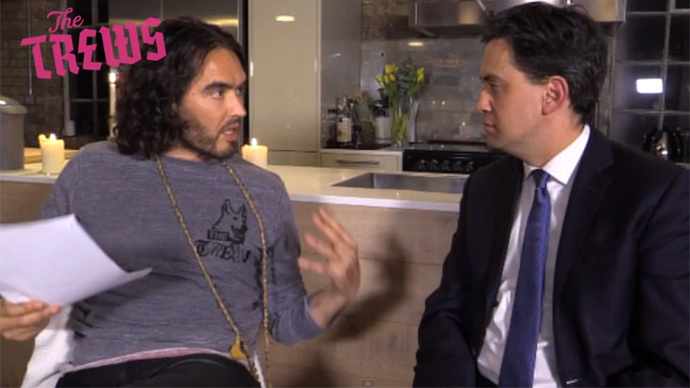 The full video of Russell Brand's interview with Ed Miliband has been released. Critics and social media users agreeing the Labour leader's performance exceeded expectations.
The interview was posted on Brand's YouTube channel, which has over 9.5 million subscribers, giving Miliband an opportunity to engage with the comedian's large internet following.
Brand and Miliband discussed the power of multinational corporations and the ability of politicians to hold them accountable.
Commentators and journalists praised the Labour leader as "principled, practical and sincere" despite comments from Prime Minister David Cameron, who called the interview a "joke."
"Because of geopolitical influences, because of global finances, it seems that it's very difficult at a domestic level to leverage serious influence," Brand told the politician.
When asked whether he had the power "to confront these powerful organizations, the financial industry [and] the transnational corporations," Miliband replied: "Of course we do."
Fair play to Miliband going to do this interview with Brand, takes some bollocks that. Comes across a lot better than those staged debates.

— Matt Jones (@The_Matt_Jones) April 29, 2015
"[You've] got to deal with it internationally, and that's hard, but you've got to do it,"he said.
"Secondly you've got to be willing to act on your own where you can. Look, there are different countries that have different ways of dealing with these things, some are more successful than others, so of course there are ways to deal with it," he added.
He was stutteringly inarticulate at times, and looked dog tired, but Miliband came out of Brand looking principled, practical and sincere

— Matthew Moore (@mattkmoore) April 29, 2015
Despite a party statement claiming Miliband had been present to film an interview, speculation that the comedian was about to come out in support of Labour was rife on Tuesday after Miliband was seen leaving Brand's house late Monday night.
As infuriating as the Russell Brand Ego Show is, I have to say Miliband comes across pretty well in video. Not sucking up, argues back etc.

— Isabel Hardman (@IsabelHardman) April 29, 2015
Brand has previously suggested abstaining from voting and his book, Revolution, advocates a radical overhaul of politics and society.
On Tuesday the Labour leader defended his opinion that voting would always make a difference and expressed his desire to engage disillusioned voters before the upcoming election.
Thought @Ed_Miliband was excellent in Russell Brand interview. Managed to engage, but not patronise, an obvious moron

— Michael Kelly (@Michael5Kelly) April 29, 2015
Miliband insisted: "I'm going to go anywhere and talk to anyone to take that message out to people about how we can change this country so it works for working people again. I say to all of the politicians in this campaign, here is the danger: the danger is that politics is being played in an increasingly empty stadium.
READ MORE: Party branding? Miliband spotted on late night visit to Russell Brand's house
"If we don't recognize that, if we don't engage in different ways with the people who aren't engaging in this election, then we will have fewer and fewer people voting."
Tory leader Prime Minister David Cameron dismissed the interview as a "joke," saying it was not prime ministerial behavior to be interviewed by a comedian activist.
"[Brand] says 'don't vote', that's his whole view, don't vote, it would only encourage them or something. That's funny, it's funny. But politics and life and elections and jobs and the economy is not a joke. Russell Brand's a joke. Ed Miliband, to hang out with Russell Brand, he's a joke."