'I feel like giving up': Death row Brit fears she's next after Bali pair executed
Published time: 29 Apr, 2015 11:49
Edited time: 29 Apr, 2015 11:50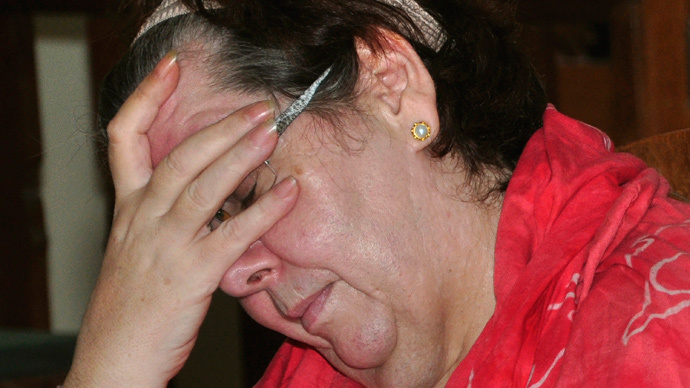 A British grandmother who is on death row in Indonesia is "deeply saddened" after hearing about the "senseless" and "brutal" execution of two Australian inmates on Tuesday.
Lindsay Sandiford, 58, from Cheltenham, who was sentenced to death in January 2013 in Bali for smuggling cocaine, says she has lost all hope after seeing "good men die."
Australians Myuran Sukumaran, 33, and Andrew Chan, 31, were among eight convicted smugglers who were killed by firing squad on 'Execution Island' on Tuesday.
READ MORE: Alabama man who spent 30 years on death row walks free
Four Nigerians, one Brazilian and inmates from Indonesia were executed alongside the Australians, while a mother from the Philippines was granted a last minute reprieve.
Families of the Australians were nearby when the executions occurred. They reportedly heard the deadly shots and "became hysterical."
Sandiford said Sukumaran and Chan "touched the lives of many people" as they helped support their fellow prisoners.
After the executions, Sandiford fears she will be next and says she "just wants to get it over with."
"If they kill someone as good as Andrew, what hope is there for me?" she asked, adding she "feels like giving up."
According to friends of the Australian pair, Sukumaran and Chan tried to comfort their fellow inmates by ordering KFC for everyone the night before they were executed.
The Indonesian government allegedly "ignored" pleas for mercy from the prisoners' families and Australian officials.
Foreign office say they are "closely following Lindsay Sandiford's case in Indonesia" and they oppose the use of the death penalty.

— briohny (@justbriohny) April 29, 2015
In a statement issued through Sandiford's lawyer from Kerobakan Prison in Bali, Sandiford said they were men "who did good and touched the lives of a great many people, including myself."
Chan was a "close friend and confidante" to Sanford when they were in Kerbokan prison together.
She says he "counselled and helped me through exceptionally difficult times after I was sentenced to death in 2013."
#Video#AndrewChan wanted you to see http://t.co/3vHmf461dq#Bali9#BaliNine#MyuranSukumaran#IStandForMercypic.twitter.com/PnYKrjjpo7

— The Courier-Mail (@couriermail) April 29, 2015
The two Australians used their time in Kerobakan prison "to make life better for everyone around them" as they "introduced the concept of rehabilitation to a prison that never had it before," she said.
To help prisoners stay productive, Chan and Sukumaran "organized painting classes, cookery classes and computer classes, and gave practical help to make sure the poorest prisoners had food, clothing and essentials," she added.
The two made sure "inmates who were sick got access to health care and hospital services which are not covered by the prison budget," she said.
"Their senseless, brutal deaths leave the world a poorer place," she added.
"Today we lost Myuran and Andrew. Our sons, our brothers," the families of Chan and Sukumaran said in a statement.
READ MORE: Experimental execution: Oklahoma legalizes nitrogen gassing of death row inmates
"In the ten years since they were arrested, they did all they could to make amends, helping others. They asked for mercy but there was none," it said.
A law enforcement official said the executions "went well, without any disruptions."
A Twitter account which allegedly belongs to Chan's brother tweeted: "I have just lost a courageous brother to a flawed Indonesian legal system. I miss you already. RIP my little brother."
Over 100 people remain on death row in Indonesia, nearly third of them foreigners, mostly for drug crimes.