Alabama man who spent 30 years on death row walks free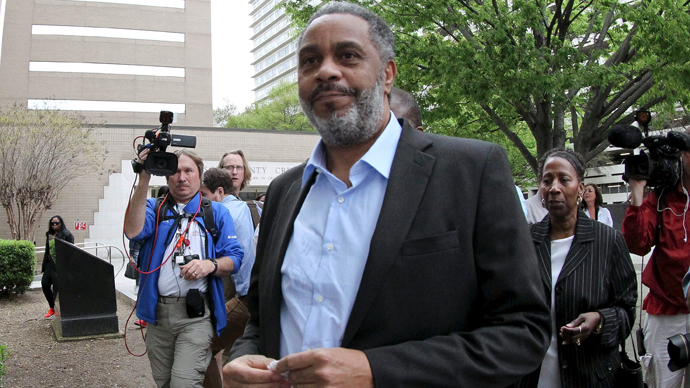 One of the longest-serving Alabama death row inmates has been released from prison after a judge found there wasn't enough evidence to link him to two murders. The man's lawyers say the wrongful conviction was the result of racial bias and poverty.
Anthony Ray Hinton, 58, walked out of prison on Friday.
"The sun does shine," was one of the first things he said upon release, according to AL.com. "All they had to do was test the gun."
Anthony Ray Hinton, exonerated Alabama death row inmate, freed from prison. pic.twitter.com/0WsLKD6rbl

— EL INFORMANTE (@ElInformanteMX) April 3, 2015
Two Birmingham area fast food managers, John Davidson and Thomas Wayne Vason, were shot dead in two separate robberies in 1985. Hinton was arrested after one of the employees identified him in a photo lineup, according to his lawyers.
The crux of the prosecution's case was based on the claim that a revolver taken from Hinton's mother's home was used in both the murders, although there were no witnesses to either murder or any fingerprints at the scene.
Hinton apparently only had $1,000 to hire a ballistics expert to disprove the prosecution's allegations. The lawyers were thus only able to hire a person with dubious credentials.
The Supreme Court last year ruled that Hinton had "constitutionally deficient" representation at his initial trial.Forensic scientists reexamined the evidence and found that the six bullets recovered from both murder scenes could not be matched to Hinton's gun.
READ MORE: 'Make room': California needs funds to expand crowded death row
Hinton was given a new trial in 2014, after the United States Supreme Court reversed a lower court's ruling, and on Thursday, Jefferson Court Judge Laura Petro dismissed all charges against him on the grounds there wasn't enough evidence conclusively linking him to either crime.
"We are thrilled Mr. Hinton will finally be released because he has unnecessarily spent years on Alabama's death row when evidence of his innocence was clearly presented. The refusal of state prosecutors to re-examine this case despite persuasive and reliable evidence of innocence is disappointing and troubling," Bryan Stevenson, Hinton's lead attorney and executive director of EJI, said in a statement.
The EJI said they thought that "racial bias" had played a role in the original wrongful conviction.
"Race, poverty, inadequate legal assistance, and prosecutorial indifference to innocence conspired to create a textbook example of injustice. I can't think of a case that more urgently dramatizes the need for reform than what has happened to Anthony Ray Hinton," Stevenson said.
The Conservatives Concerned About the Death Penalty, a political network, also issued a statement strongly implying his case showed the need to scrap the death penalty.
"Because of inept legal representation and faulty forensics, he has lost 30 years of his life, which he spent on death row, and could have easily been wrongly executed by the State of Alabama. The ease at which people are wrongly convicted and sentenced to death is appalling and should give conservatives pause," the statement read.
Hinton's is not an isolated case. Since 1976, 144 people on death row in the US have been exonerated. The case of Edward Lee Elmore is strikingly similar to Hinton's.
READ MORE: Utah becomes only state in America to approve death by firing squad
Elmore, a mentally disabled African American handyman, was arrested for the rape and murder of an elderly white widow in Greenwood, South Carolina in 1982. He insisted he was innocent and had no previous convictions.
But he ended up on death row because of police ineptitude and deceit. Law enforcers are said to have planted evidence on Elmore to make him look guilty, while other evidence that would have proved his innocence was withheld from the court.
This coupled with an ineffective trial lawyer meant that after an eight-day trial he was sentenced to death. It wasn't until a group of lawyers took a close look at his case in 2011 that a federal appellate court annulled his sentence.
The majority of US states still have the death penalty. In 2012, only China, Iran, Iraq and Saudi Arabia executed more people than America in 2012.
You can share this story on social media: