Tories 'playing politics' with Trident nukes, says Labour
Published time: 29 Apr, 2015 11:31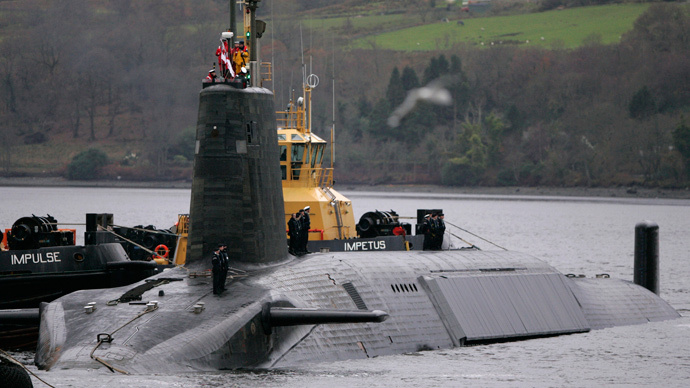 Defence Secretary Michael Fallon was accused by Labour of 'playing politics' with Britain's Trident nuclear weapons, as 20 security chiefs signed a letter warning of the 'folly' of scrapping the submarine program.
Shadow Defence Secretary Vernon Coaker said Fallon is putting Britain at risk by refusing to confirm whether the Conservatives would back the renewal of Trident if Labour forms a coalition government with the SNP after the general election.
During a BBC debate, which included member of all the main political parties, Coaker pledged Labour's commitment to replacing all four Trident submarines in order to maintain the UK's "continuous-at-sea" nuclear deterrent.
When repeatedly pushed on the issue, Fallon said: "The country needs to avoid that question by the certainty of a Conservative government that is absolutely committed. We can't have this confusion or uncertainty.
READ MORE: Trident nukes could move to Gibraltar under SNP pressure, says academic
READ MORE: Scrap 'irrelevant' Trident nukes, Scottish trade unionists say
"The way to be absolutely sure about our nuclear defense is to vote Conservative."
Later, Coaker told the Guardian: "The Tories' desperation was shown clearly today as Michael Fallon was exposed playing politics with Britain's nuclear deterrent. He shamefully refused six times to confirm whether the Tories would vote to renew the deterrent if there was a Labour government."
The latest round of nuclear mudslinging comes as 20 former heads of the military and the intelligence services signed a letter highlighting the dangers of abandoning the UK's nuclear deterrent.
The letter, published in the Times, said the nuclear capability is vital to "deter aggression against this country and our allies and to counter any nuclear blackmail which would threaten Britain's essential interests or survival."
Considerably less space has been given in the mainstream debate to those who oppose renewing or replacing the deterrent.
Writing for the New Internationalist on Wednesday, Andrew Smith of Campaign against the Arms Trade (CAAT) commented on Fallon's recent suggestion that Labour chief Ed Miliband could not be trusted with Trident because he had stabbed his own brother in the back over the Labour Party leadership.
"The political differences between the two main parties are actually far less pronounced than his outburst would suggest," said Smith.
"Both parties remain completely committed to renewing Britain's nuclear weapons. The issue goes far wider than Trident, with both parties agreeing on most of the fundamentals of foreign policy and national security."
Smith went on to say Trident is just the tip of an iceberg when it comes to the leading parties' commitment to militarism
"The last few months have seen former defense secretaries from both sides joining NATO heads in calling on Britain to 'show leadership' by increasing its current $56-billion military budget.
"Senior military chiefs have threatened to quit if there are any cuts and last month the House of Commons Defence Committee urged the government to 'rebuild itsmilitary capacity'."