​Anti-austerity occupiers to be ejected from Manchester Albert Square
Published time: 24 Apr, 2015 14:55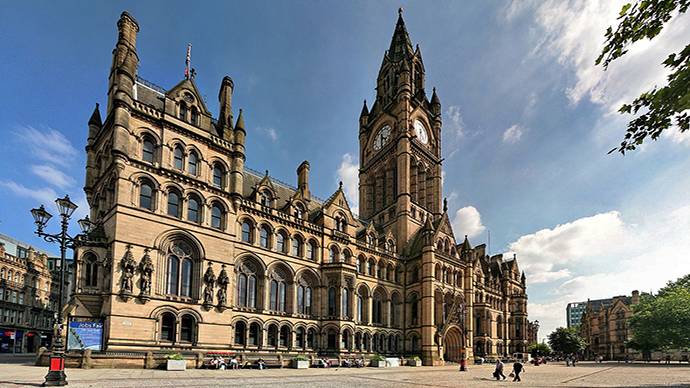 Homelessness and anti-austerity campaigners who have formed a protest camp outside the city council chambers in Manchester's Albert Square could be gone within hours after losing a court battle to remain.
After trying to overturn a court order on Friday, the demonstrators, who are protesting the rise of homelessness in the city as a result of austerity measures, are faced with a stark choice between moving on voluntarily or being forcibly removal.
Recent weeks have seen a flurry of legal exchanges between council bosses and occupiers.
The city council had won an injunction to eject the protesters, which was appealed by those in the camp earlier this week.
Homeless protest camp in Manchester's Albert Square. via @pixel8foto@MENnewsdeskhttp://t.co/K1WKvGX0FJpic.twitter.com/nLYBpWqj3l

— Yakub Qureshi (@yqshi) April 17, 2015
While the case was set to be heard next Tuesday, council bosses again outflanked protesters and brought the hearing forward to Friday.
Despite the setback, protestors may further challenge the result under the Human Rights Act and the Housing Act.
The group was represented by Waddell Taylor Bryan Solicitors. Solicitor Ben Taylor told the Manchester Evening News: "They have to leave immediately."
"If they do not then the bailiff's department will be instructed to enforce the possession order. We are considering the merits of pursuing an appeal now."
The protest heated up last week amid claims it was hijacked, resulting in a number of people attempting to storm the council buildings.
A local government spokesman told the Manchester Evening News: "The delays have been incredibly disappointing as, following the behavior of a group of protesters who behaved aggressively towards our staff and damaged property last week, we have had no choice but to increase security at the town hall while valuable police resources have also been tied up."
Housing and homelessness has become an increasingly fraught topic in the UK.
Makeshift campsites pitches up in Albert Square in Manchester to protest about homelessness in the city. #c4newspic.twitter.com/rJLSk19N49

— Robert Windscheffel (@RWindscheffel) April 16, 2015
On Tuesday, housing and anti-homelessness protestors blockaded the entrance of London's annual Property Awards on Tuesday in a bid to highlight Britain's critical lack of social housing.
Demonstrators chanted "housing is a human right" at attendees, who arrived wearing tuxedos and designer dresses.
Campaigners obstructed the entrance to the event with a large banner reading "No more deaths on our streets."
The Property Awards annual dinner celebrates the UK's leading developers and companies, many of whom build luxury flats in London which retail for more than £900,000 and are marketed to investors abroad.
READ MORE: 'Housing a human right': Protestors blockade luxury London property awards (VIDEO)
Protestors came from a variety of campaigns, including Occupy, Focus E15 – a group of mothers who fought off eviction in Newham – the Sweets Way Resists group, and Friends of the Joiners.
Participants from the recent March for the Homeless on Downing Street also joined the demonstration.
Some campaigners attempted to enter the hotel before storming a neighboring Foxtons estate agents and forcing staff to retreat to back rooms, according to reports.
One activist, who is interviewed in a video of the demonstration published by Urban Pictures UK, described the awards ceremony as "vulgar."