​'Housing a human right': Protestors blockade luxury London property awards (VIDEO)
Published time: 22 Apr, 2015 11:24
Edited time: 28 Apr, 2015 08:43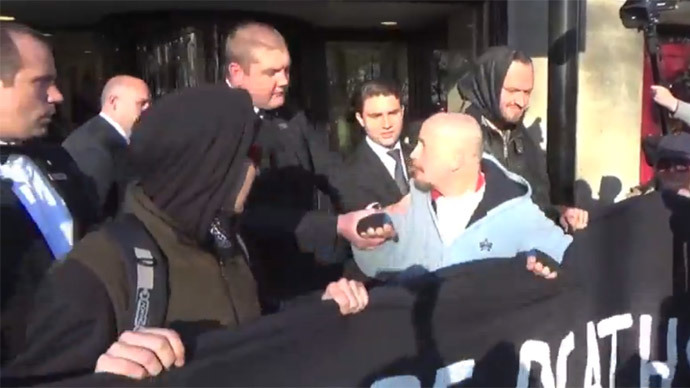 Housing and anti-homeless protestors blockaded the entrance to London's annual Property Awards on Tuesday in a bid to highlight Britain's critical lack of social housing.
Demonstrators chanted "housing is a human right" at the attendees, who arrived wearing tuxedos and designer dresses.
Campaigners blockaded the entrance to the event with a large banner reading "No more deaths on our streets."
The Property Awards annual dinner celebrates the UK's leading developers and companies, many of whom build luxury flats in London which retail for more than £900,000 and are marketed to investors abroad.
Protestors came from a variety of campaigns, including Occupy, Focus E15 – a group of mothers who fought off eviction in Newham – the Sweets Way Resists group, and Friends of the Joiners.
Participants from the recent March for the Homeless on Downing Street also joined the demonstration.
Some campaigners attempted to enter the hotel before storming a neighboring Foxtons estate agents and forcing staff to retreat to back rooms, according to reports.
Protestors shouted "scum, scum, scum" and "shame on you" as the attendees arrived, while one campaigner was arrested.
One of the campaigners, who is interviewed in a video of the demonstration published by Urban Pictures UK,described the awards ceremony as "vulgar."
Charlotte Gerada, an advisor for the Irish Survivors Support Network, said: "We think it's absolutely vulgar that at the peak of a real housing crisis, not just in London but in the whole country, [while] homelessness levels are the highest they've ever been, rent the highest levels they've ever been, that they could actually feel comfortable celebrating themselves and celebrating the work they do," the young woman, who is not identified, says.
"It's an opportunity to flip the script, and congratulate all the housing and anti-gentrification campaigns for their hard work in ensuring London remains open and accessible to people from all backgrounds, not just a rich elite," a spokesperson for the activists told the Guardian.
The UK's dire housing situation has been widely described as a national crisis forcing many people into hostels or homelessness.
The number of homeless people in London has increased by 79 percent since 2010, with nearly 750 people estimated to be sleeping rough on the streets of the capital.
London's annual Property Awards highlight the sharp contrast between the boom in luxury property development in Britain and the shortage of affordable homes.
READ MORE: 'Killed by cold indifference': Protestors decry 'plight' of homeless
Delancey, a firm nominated in the property company category, is involved in the redevelopment of Elephant and Castle, South London, where thousands of people have been evicted from their homes.
The company's development in Tribeca Square reportedly doesn't include any affordable homes.
Another firm shortlisted for the Property Awards was the luxury flat developers Land Securities.
The firm lost a legal battle with Her Majesty's Revenue and Customs (HMRC) in 2013 and was forced to pay a £60 million tax bill after attempting "flagrant tax avoidance."
Eileen Short of Defend Council Housing said: "Yesterday's protest at the London Property Awards ceremony, is another sign of the growing anger and impatience with the 'business as usual' attitude of property developers, speculators and all too many politicians."
"People are struggling with soaring numbers of evictions, huge housing waiting lists and the destruction of really-affordable council homes. Benefit cuts are forcing people out of their homes and communities, and street homelessness has doubled in London."
She added: "A new housing movement is developing, no longer prepared to accept excuses. We need action to control rents,regulate landlords and property pimps, and build council housing.That's the message uniting housing campaigners."