​Homicide hits record low, but sex offences jump by 32% – ONS
Published time: 23 Apr, 2015 16:09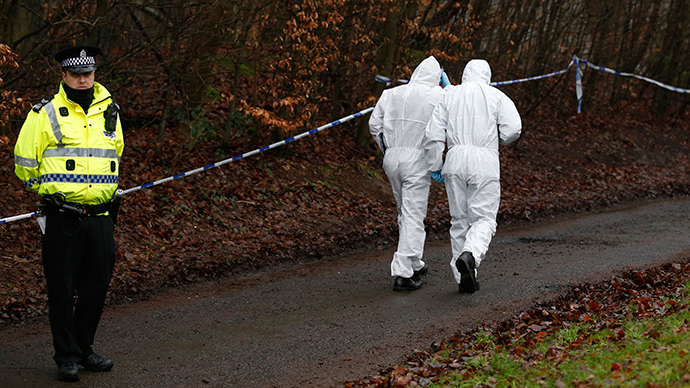 The number of homicide cases in England and Wales fell to a 38-year low in 2014, while recorded sex offences increased by a third, new figures indicate.
British police recorded 515 murders and manslaughters last year, the fewest since 1977 and 37 fewer than in 2013.
Meanwhile the number of recorded sex offences jumped by 32 percent to 80,262.
Figures from the Office for National Statistics (ONS) indicate the number of homicides – a category which includes murder, manslaughter, corporate manslaughter and infanticide – hit their lowest level since 1977, when 484 were recorded.
"Over the past decade the volume of homicides has decreased while the population of England and Wales has continued to grow," the ONS said.
The rise in recorded sexual offences is thought to reflect a "greater willingness of victims to come forward."
READ MORE: UK rape trials to soar by third – Director of Public Prosecutions
There were 26,703 allegations of rape recorded in 2014, an increase of 39 percent on the previous year.
Recorded allegations of other sexual offences rose by 28 percent to 53,559.
Fay Maxsted, chief executive of the Survivors Trust, which represents 130 rape, sexual violence and child sexual abuse charities, said the convictions of celebrities such as Rolf Harris and Stuart Hall had "encouraged people to feel justified in coming forward."
"We have known for a long time that under-reporting is a real problem in terms of sexual offence cases," she told the Daily Express.
"Previous estimates have suggested just 15 percent of sexual offences are reported to police for all kinds of reasons. Victims may feel fearful, ashamed or guilty.
"One of the effects of Operation Yewtree, in the wake of [Jimmy] Savile, has been it has brought sexual cases to the fore. All our agencies have seen dramatic increases in people coming forward – some have seen a rise of 50 percent – although they may not necessarily have reported to police."
READ MORE: 'National threat': Prosecute those who 'willfully neglect' sexually abused, says Cameron
Overall, the ONS says there were 3.8 million criminal offences recorded by the authorities last year, a 2 percent rise on 2013.
However this increase is likely to reflect changes in the way police record crimes.
Crime in England and Wales is on a downward trend from its peak of 19 million incidents in 1995, according to estimates from the Crime Survey for England and Wales (CSEW).
The CSEW figures do not include some low volume crimes such as murder, rape, and other sexual offences. It also excludes possession of drugs or motoring offences, so called victimless offences.
Other offences which have seen an increase in recorded incidents include shoplifting, according to the ONS.
As a sign of economic times, the recorded of shoplifting incidents soared to 325,000, its highest level since 2002 and 2003.