'National threat': Prosecute those who 'willfully neglect' sexually abused, says Cameron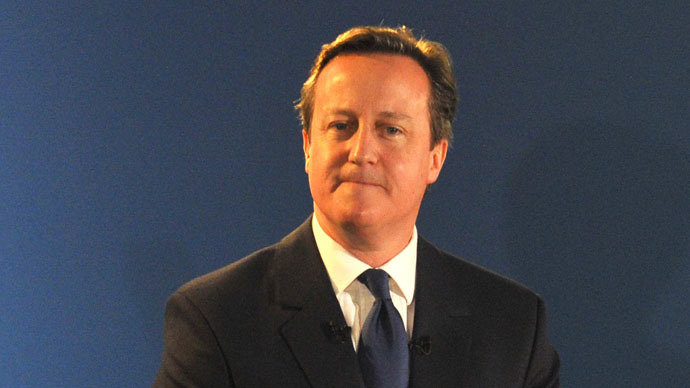 Institutions and authorities have failed to tackle "industrial scale" sexual abuse and those who keep it hidden should face prosecution, Prime Minister David Cameron said on Tuesday.
Outlining a series of new plans to eradicate child sex abuse, the Prime Minister said that senior members of several organizations had been "walking on by". He said institutional figures such as teachers, councilors and social workers could face up to five years in jail under the proposals.
He added that police would view sexual exploitation as a "national threat."
Speaking at a summit to address the recent revelations of mass sexual exploitation in Rotherham and Oxfordshire, Cameron said: "I think it's very important we take a step back and just recognize the horrific nature of what has happened in our country."
Cameron's proposals coincide with the release of a review into widespread abuse in Oxfordshire which found that 373 children may have been victims of grooming over the past 16 years.
READ MORE: UK child kidnappings and abductions soar by 13% - media
The latest plans, currently under consultation, mean it will be a criminal offence to knowingly neglect and fail to report those at risk of abuse.
The plans will be introduced as an extension of the existing crime of willful neglect of patients by care workers in the Criminal Justice and Courts Act.
"Young girls – and they are young girls – being abused over and over again on an industrial scale, being raped, being passed from one bunch of perpetrators to another bunch of perpetrators. And all the while this has happened with too many organizations and too many people walking on by," the Prime Minister said.
"And we have got to really resolve that this stops here, it doesn't happen again and we recognize abuse for what it is."
Speaking to the BBC, he added: "If professionals fail, there need to be consequences."
Cameron revealed the plans at a meeting in Downing Street, which was attended by victims, survivors' groups, council leaders, police chiefs and health and social care providers.