UK child kidnappings and abductions soar by 13% - media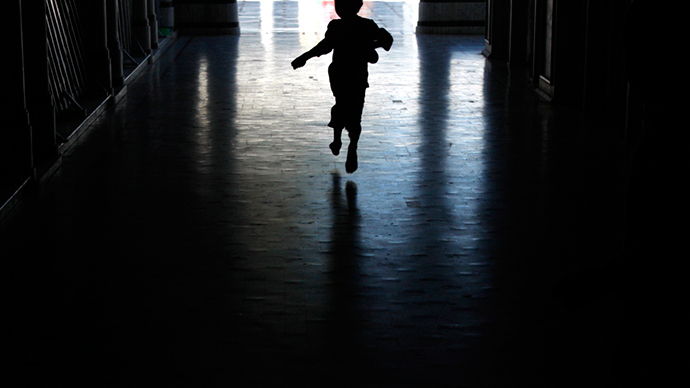 Almost 900 child abductions were reported in the UK during 2014 alone. Statistics gathered from police forces indicate the numbers of cases are on the increase.
The study has shown kidnappings and abductions of kids and teenagers under 18 increased by 13 percent between 2012-2013 and 2013-2014. Kidnappings, if taken alone, soared by 18 percent over the same time, according to the research.
The figures were collected from the police and analyzed by the charity Parents and Abducted Children Together (Pact), the Independent reported.
Between 2013 and 2014, 401 were abducted by people other than their parents (for instance, when a stranger lures a child in with sweets), 158 by an aggrieved parent, and 321 children were kidnapped.
READ MORE:'Deeply disturbing': Children held at migrant detention center despite govt pledge
Kidnapping is defined as the use of force or fraud to take a person and use them as a negotiation tool, and 20 percent of all kidnappings recorded by the UK police force have a child as a victim.
Abductions, on the other hand, are not necessarily carried out to start some kind of negotiation - a divorced parent may take their child in defiance of court orders. Sex offenders can abduct kids to satisfy their desires.
The numbers involve documented crimes, but Pact is sure many cases go under the radar of the police.
"While the increases in child abduction and child kidnapping offences have been relatively high, the actual incidence of these offences is still relatively rare. Including child kidnappings, 7.4 offences of child abduction or kidnapping were recorded per 100,000 children by police in England, Wales and Northern Ireland," the report stated.
READ MORE:Family kidnaps 'too nice' child at gunpoint to teach 'stranger danger'
Abductions and kidnapping rates are highest in Northern Ireland, with 11.6 cases per 100,000 kids. Elevated numbers are also demonstrated in London and Yorkshire and Humber: 9.8 and 9.3 respectively per 100,000. The lowest rate was in Wales: 4.5 cases per 100,000 children.
"Offences in Lancashire doubled (an increase of 20 offences) and Kent, North Yorkshire and Northumbria each recorded increases of 14 offences – at least three times the number recorded in 2012-13. These increases in offences recorded by small and medium-sized forces have led to some surprising findings in the rates of child abduction and kidnapping. Lincolnshire has a rate of child abduction/kidnapping 2.5 times the national average at 18.5 per 100,000," the study said.
READ MORE:Generation fat? Third of English kids overweight or obese – study
Experts think the reason might be changing crime-recording practices, and the Rotherdam scandal, which has seen the way abductions and kidnappings are dealt with re-evaluated.
The Rotherdam scandal involved sexual abuse against girls as young as 12 between 1997 and 2013.
"It's a bit of a complex picture. In terms of recording, it's my guess that when faced with that scenario of no physical contact, some forces are recording a crime and some are not," Geoff Newiss, director of research at Pact, told the Independent.
"I would imagine that [Rotherham] is something to do with it. I wouldn't be surprised if forces are more sensitive now to the need to record what comes their way," he added.
READ MORE:Hundreds of UK child sex offenders spared jail, let off with cautions
Abductions by parents are infrequently recorded by police, the study found. Greater Manchester recorded only seven offences in 2013-14, while West Yorkshire recorded none.
However, George Newiss said he believed the figures and that he is "more suspicious of really low numbers than high numbers."
In response, a spokesperson for the Association of Chief Police Officers said: "There has been a considerable focus in the police service in recent years to improve crime-recording practices," which in turn has led to an increase in the statistics.