#MigrantLivesMatter: Mass die-in to occupy iconic London Eye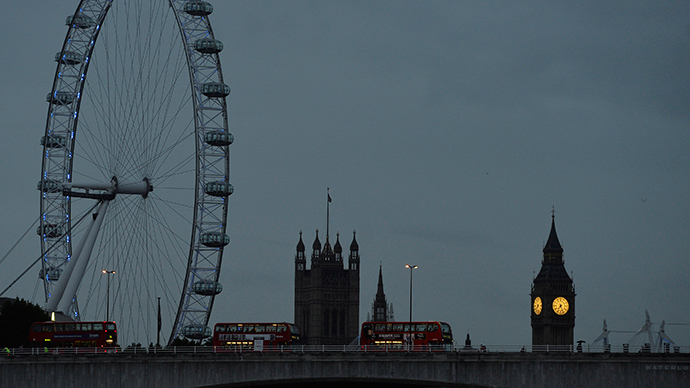 The London Eye will host a mass die-in on Thursday night for activists advocating migrant rights in the wake of the Mediterranean migrant boat disasters and a hunger strike following the death of a detainee at Yarl's Wood detention center.
Some 800 people are expected to attend the vigil, which organizers have described as necessary "to bring justice to migrants."
"Migrants are being murdered in detention centers, being brutalized by privatized security and ignored by the public. 950 migrants have drowned at sea, this is a European massacre. All of this blood is on the hands of political and corporate play-makers," the event's Facebook description reads.
"Migrants are people, are flesh of our flesh, they flee neo-colonial conditions and instead of receiving justice, they are being demonized by our racist press."
The protest comes almost a week since a boat carrying migrants sank 60 miles (97km) off the coast of Libya, killing nearly 800 people.
READ MORE: 200 body bags on Brighton beach highlight scale of Mediterranean migrant crisis
The total death toll of migrants who have drowned attempting the perilous journey across the Mediterranean from North Africa and the Middle East was 3,400 in 2014.
In the first four months of 2015 the total number is already over 1,200, a startling rise of over 100 times the number during the same period in 2014.
The die-in follows a protest on Brighton beach on Wednesday where more than 200 body bags were laid out as a symbolic act against Britain's "shameful response" to the Mediterranean's rapidly escalating migrant crisis.
The spectacle was organized by Amnesty International UK in an effort to increase pressure on the British government to play its part in protecting vulnerable migrants who flee their homelands in search of a better life.
solidarity with the die-in #migrantlivesmatter#alllivesmatter

— Ellis Dee (@justarideyo) April 23, 2015
As part of the protest, human rights campaigners gathered on the shingle beach on Wednesday morning. Approximately 30 people were zipped into body bags near Brighton Pier.
Mass public outcry at the disaster has seen ministers and diplomats hold emergency crisis talks in Brussels to attempt to find a solution to the continuing problem
As summer draws nearer and the sea becomes calmer, Amnesty warns "many more people are likely to make the journey and many more will drown over the next few months."