200 body bags on Brighton beach highlight scale of Mediterranean migrant crisis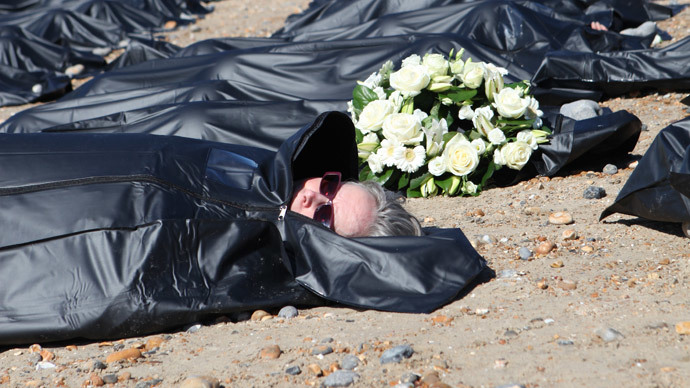 Human rights activists laid out hundreds of body bags on Brighton beach on Wednesday in a symbolic act of protest against Britain's "shameful response" to the Mediterranean's rapidly escalating migrant crisis.
The powerful spectacle was organized by Amnesty International UK in an effort to increase pressure on the British government to play its part in protecting vulnerable migrants who flee their homelands in search of a better life.
As part of the protest, human rights campaigners gathered on the shingle beach on Wednesday morning. Approximately 30 people were zipped into body bags near Brighton pier.
More than 1,000 women, men and children dead in 5 days. This can't go on. #DontLetThemDrown: http://t.co/K9CZWlEPZxpic.twitter.com/LWjNRznCxM

— Amnesty UK (@AmnestyUK) April 21, 2015
A political banner brandishing the hashtag #DontLetThemDrown was also set out alongside the activists with a large life belt and a white funeral wreath.
Amnesty's thought-provoking protest follows the tragic drowning of hundreds of migrants off the coast of Libya on Sunday, after a boat they were traveling in capsized.
The vessel, which ran into difficulty in Libyan waters south of Lampedusa, was carrying an estimated 950 people.
An escalating migrant crisis
Many migrants ferried across the Mediterranean are thought to be from war-torn Syria and sub-Saharan regions of Africa. As many as 1 million people from these territories are currently waiting in Libya to cross Mediterranean waters into Europe, Italian officials say.
Since January 2015, at least 1,700 men, women and children have drowned in Mediterranean waters, 1,100 of whom perished last week. This figure marks a dramatic 100-fold increase on 2014, according to Amnesty International UK.
As summer draws nearer and the sea becomes calmer, Amnesty warns "many more people are likely to make the journey and many more will drown over the next few months."
One clear message to all the EU's leaders from Brighton: #DontLetThemDrown Join our call http://t.co/MKHm0WscMppic.twitter.com/pSaXgjkA7k

— Amnesty UK (@AmnestyUK) April 22, 2015
Under the coalition government, Britain has espoused a particularly hardline stance on the deaths of migrants in the Mediterranean. In October 2014, Home Secretary Theresa May argued at an EU summit that search and rescue missions in Mediterranean waters should be abandoned.
Previously, Britain and other leading EU states conducted such rescue missions across these waters. However, since the policy was scrapped, at least 1,500 people are thought to have drowned.
Amnesty's protest in Brighton comes a day before European leaders are set to meet in Brussels to review the EU's anti-trafficking measures. Also on the agenda, is a comprehensive review of the EU's recently scrapped search and rescue policy.
Thursday's emergency summit follows a preliminary meeting on Monday during which EU ministers laid out a ten-point plan to address the Mediterranean migrant crisis.
READ MORE: Royal Navy warship could be dispatched to tackle Mediterranean migrant crisis
Interior and foreign EU ministers who were present agreed to conduct military operations against human trafficking networks operating in Libya, which are commonly responsible for the death or drowning of vulnerable migrants.
Additionally, the EU leaders demanded increased cooperation with Libya's neighboring states such as Tunisia, Egypt and Niger as a means of clamping down on routes commonly used by traffickers. The ministers resolved to step up patrols in the Mediterranean, and are expected to convene again on Thursday to settle upon a final agreement.
Speaking on Wednesday, Amnesty UK Director Kate Allen said the government's response to the migrant crisis in the Mediterranean has been "shameful."
Allen acknowledged the UK government has finally woken up to the sheer scale of this crisis. She said the British government and European leaders must now "urgently turn their rhetoric into action to stop more people drowning on their way to Europe."
You can share this story on social media: