£30bn black hole in Tory spending plans, tax think tank reveals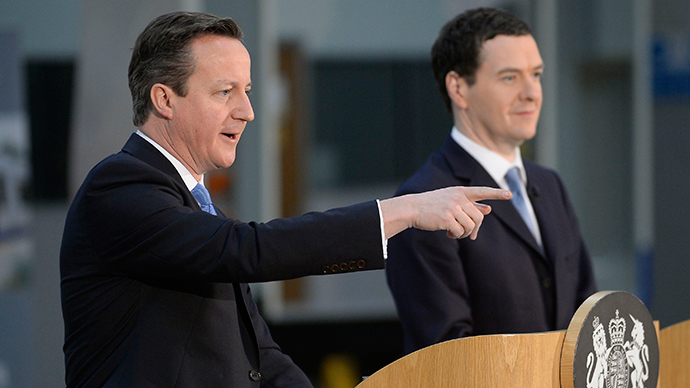 Chancellor George Osborne is facing a £30 billion black hole in his budgetary plans if he is to honor the Conservative Party's general election pledges and still meet the party's deficit-slashing targets by 2020, the Institute for Fiscal Studies warns.
The IFS' scathing assessment of Osborne's spending pledges surfaced in its pre-election analysis, a mere 15 days ahead of Britain's general election.
The tax think tank's report, published on Thursday, found the Tories would need to make the cuts from government departments by 2020. The IFS said this £30 billion black hole would exist even if Prime Minister David Cameron's party managed to raise £10 billion from yet-to-be clarified welfare cuts, and a further £5 billion from its proposed measures to clamp down on tax-avoidance.
READ MORE: Miliband risks 'daily dose of political blackmail' in Labour-SNP coalition – Ex-PM John Major
Examining the party's economic policy proposals, the IFS argued the cuts the Conservatives had failed to account for would amount to a 30 percent reduction in funding for government departments between 2010 and 2020.
"Despite planning for more austerity, the Conservatives' detailed tax policies amount to a net giveaway, their detailed social security measures would only provide a 10th of the cuts that they have said they would deliver, and their commitments on aid, the NHS and schools would increase spending in these areas," the IFS said.
The IFS' assessment of Labour's spending plans was more forgiving. The think tank's report said the party's less austere deficit-slashing targets would only require a modest £1bn in further spending cuts over the coming parliament if Shadow Chancellor Ed Balls achieved his objective of drumming up an additional £7.5 billion through the party's tax avoidance measures.
Adopting a more Keynesian route to that espoused by the Tories, Balls would borrow to fund state investment rather than implementing punishing austerity to bring about a budget surplus.
The IFS warned, however, Labour's manifesto is vaguer on the precise figure it would borrow. The think tank predicted Ed Miliband's party could end up borrowing £90 billion more than the Tories by 2020.
READ MORE: 'Goldman advising on the economy like Dracula on running a blood bank' – UK economist
The Liberal Democrats' spending objectives place the party's economic policy compass midway between the Conservatives and Labour, the IFS suggested. It found that the Tories hope to slash borrowing by 5.2 percent of GDP by 2020; Labour by 3.6 percent; and the Lib Dems by 3.9 percent.
As the Scottish National Party (SNP)'s spending proposals continue to attract scrutiny amid suggestions it could form a coalition with Labour, the IFS expressed doubt regarding the party's claim it would bring an end to austerity.
The IFS said the SNP's spending plans were virtually the same as Labour's until 2018/19 and stressed the party would continue with cuts after a Labour or Tory government's austerity policies had come to an end.
The think tank also argued the SNP's pledge to ramp up public spending by 0.5 percent each year would actually mask cuts to other government departments of 4.3 percent as Nicola Sturgeon's party seeks to protect the NHS and foreign aid spending while bolstering welfare spending.
Probed on the IFS' warning of a £30 billion black hole in Osborne's spending plans, a spokesperson for the Conservative Party declined to comment.
READ MORE: SNP manifesto: End austerity, build a new progressive politics for 21st century Britain
Following the release of the IFS' report, Ed Balls said the Conservatives would fail to meet their promise to protect health service funding.
"The truth the Tories won't admit is their plans are so extreme they would end up cutting the NHS," he said.
"Countries which have cut spending on this scale have cut their health service by an average of 1 percent of GDP – the equivalent of £7bn."
Reflecting on Ed Balls' economic plan for Britain, a spokesperson for Labour said the party is "pro-business but not business as usual."
"We want more competition in banking, a British Investment Bank to boost lending and action to tackle tax avoidance. Financial services are an important part of our economy and the big threat to the City and our economy is a re-elected Tory government taking Britain out of the EU," he told RT.
Carl Emmerson, the IFS deputy director, condemned each of the main political parties for offering too little precise detail on their spending plans.
"There are genuinely big differences between the main parties' fiscal plans," he said.
"The electorate has a real choice, although it can at best see only the broad outlines of that choice."