'Goldman advising on the economy like Dracula on running a blood bank' – UK economist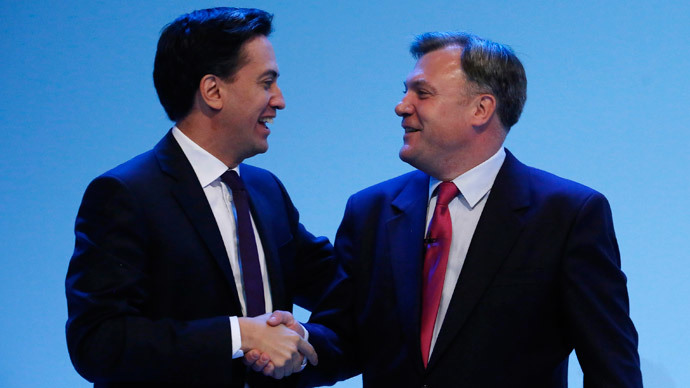 Goldman Sachs' claim that a Labour victory in the general election would impact negatively on Britain's economy has been dismissed by leading British economists, who say the Wall Street giant's outlook is laughable and colored by self-interest.
In a research document sent to clients earlier this week, Goldman claimed a Labour-led government could spark an exodus of investors from the City of London to more business-friendly pastures.
The bank's warning adds to a growing chorus of concern emanating from the City that Ed Miliband's party would formulate fiscal and economic policy in the interest of people rather than profit.
Speaking to RT on Wednesday, British economist James Meadway argued Goldman Sachs' rationale was "nakedly self-interested."He insisted the Wall Street giant is not a credible voice on economic policy.
"Listening to Goldman Sachs for advice on how to run the economy is like listening to Dracula on how to run a blood bank," Meadway said.
UK economist and anti-austerity campaigner Michael Burke added Goldman's general election analysis amounts to "laughably bad economics."
Burke told RT the investment bank's assessment of Labour's role in government appears to "confuse the economy with the well-being of its own bankers."
READ MORE: Emotional toxicity of austerity eroding mental health, say 400 experts
Goldman Sachs is a powerful player in the City of London and across the European Union. However, the investment bank has been the focus of sharp criticism in recent years over allegations of insider trading, corruption, aggressive investment vehicles with corrosive social impacts, and its role in compounding Europe's sovereign debt crisis.
Despite the bank's less-than-gleaming reputation, its condemnation of Labour will likely be welcomed by City financiers and Conservatives. Speaking to its clients earlier this week, the investment bank said a victory for Labour would be understood as "more problematic by the business community" than victory for the Tories.
Goldman billed a coalition between Labour and the Scottish National Party (SNP) as the most toxic combination of parties that could enter government next month. The bank warned Labour's reliance on the SNP would drag Ed Miliband's party out of its centrist position and further to the left.
"Concerns are likely to emerge that reliance on the SNP would pull the Labour government away from the center to the left of the political spectrum, as well as raising the specter of distributional policies favoring Scotland at the expense of the UK as a whole," the US bank said.
"It is likely that market and business sentiment would be supported by the emergence of a Conservative government," it added.
READ MORE: SNP manifesto: End austerity, build a new progressive politics for 21st century Britain
Goldman appeared to find a number of Labour policy proposals particularly perplexing. The bank said Miliband's pledge to freeze energy prices until 2017 had been "viewed with skepticism" by Britain's business community. It also criticized Miliband's pledge to scrap zero hour contracts, warning such a measure could compromise the "flexibility of the UK labor market."
The bank went on to claim that a series of "macroeconomic and financial shocks" will inevitably emerge in coming years, and that a Conservative-led government is the only credible option of carrying Britons safely through this inevitable economic turbulence.
The economic legacy of previous Labour administrations is mixed at best, Goldman added, warning that Britain's business community may harbor doubts that a Labour-led government would "deliver market-friendly policies."
By contrast, the bank argued a Conservative-led coalition has established "some credibility" in markets in light of its "contribution to the stabilization of the economy" and "revival of growth" since 2010.
Reflecting on Goldman's general election analysis, NEF's James Meadway said the Wall Street giant was lobbying for a pro-austerity government whose policies would benefit the interests of big banks.
READ MORE: Miliband risks 'daily dose of political blackmail' in Labour-SNP coalition – Ex-PM John Major
Meadway stressed the sort of "market friendly policies" Goldman seeks have presided over the most protracted "decline in average pay since the Industrial Revolution."
Amid "an explosion of zero hour contracts," profits are at "record levels" and the stock market "has never looked rosier," he added.
Meadway rejected the Tories' argument that Labour caused the global financial crisis. However, he said the party compounded matters by "listening to the likes of Goldman Sachs."
Meadway accused Goldman of selling the very "financial time bombs" that helped create the crash, and then reaping mammoth profits by betting on the resultant crisis.
"The recession was so bad and the bank bailout so extraordinarily expensive precisely because we have had governments - including those before Labour - that let bankers and speculators run riot for decades," he said.
"When the inevitable crash came, they were able to force the rest of us to pay for the clean-up operation."
UK economist Michael Burke said "Goldman Sachs are the 1 percent, and are fearful the next government won't always act in their interests."
Echoing Meadway, he said the bank's role in creating the global financial crisis should not be forgotten.
"Like all the other Wall Street firms, Goldman had to be bailed out by the US and British governments from a financial crisis that Wall Street caused," he said.
"They caused the economic turbulence and in Britain were rescued from it by a Labour government."
READ MORE: Ed Miliband wants to hurl Britain back to '1970s class warfare' – Business tycoon Lord
Burke suggested Goldman's "moans about zero-hours contracts and a modest cap on energy bills" are a strategic diversion.
"This is because their real aim is to avoid 50p tax rates for high earners, the Mansion Tax and other small impositions which shift some of the burden of austerity onto the shoulders of the rich, the likes of Goldman Sachs bankers and their clients," he said.
Goldman's analysis of Labour, the SNP and the Conservatives is widely viewed as ideological, born of a firm commitment to an economic system that favors austerity, light touch regulation, market liberalization and privatization.
The bank's prognosis follows similar rhetoric from Credit Suisse and Panmure Gordon, which have warned of the dangers of a Labour-SNP coalition for market volatility.
It also echoes the perspective of John Wyn-Evans, an investment banking chief at Investec Wealth & Investment, who told the Telegraph that Britain's financial and construction sectors would stand to "bear the brunt of Labour's populist agenda."
Labour has strongly rejected the critique of Goldman Sachs and other City players.
"Labour is pro-business, but not business as usual," a spokesman for the party told RT on Wednesday.
"We want more competition in banking, a British Investment Bank to boost lending and action to tackle tax avoidance.Financial services are an important part of our economy and the big threat to the City and our economy is a re-elected Tory government taking Britain out of the EU."
You can share this story on social media: