​'Most dangerous woman in Britain': Establishment press attack SNP's Sturgeon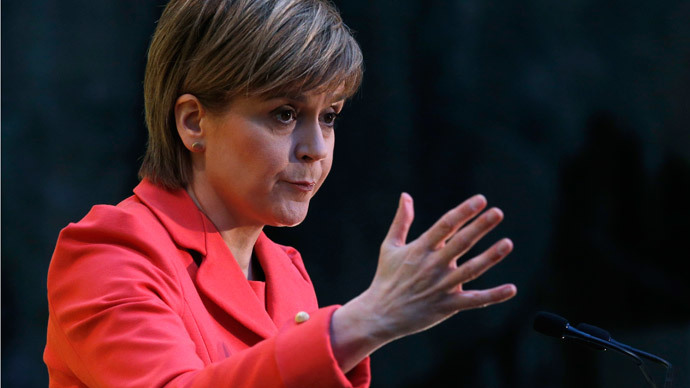 Right wing commentators and newspapers have taken to using dirty tactics to challenge the seemingly endless rise of Scottish National Party leader Nicola Sturgeon.
The Scot has even been awarded Britain's top anti-establishment accolade by the Daily Mail newspaper, who branded her "the most dangerous woman in the country."
The title of "most dangerous man in Britain" was once given to the late left-wing stalwart Tony Benn, who died last year.
READ MORE: Scottish First Minister Sturgeon slams 'austerity economics'
Among her detractors is London Mayor Boris Johnson, who used his Telegraph column to call the SNP "lefties on steroids," and at one point went fully biblical, saying "You wouldn't get Herod to run a baby farm, would you?"
In his Daily Mail column, Pier Morgan described Sturgeon as a "diminutive but sharp-witted woman [who] has rampaged through the UK election campaign like a mini-Godzilla, breathing fire and brimstone."
The Mail also headlined a story concerning the politician "Little Miss McHypocrite," while the Murdoch-owned Sun took off the Miley Cyrus song 'Wrecking Ball' to depict Sturgeon riding said demolition tool while clad in skimpy tartan.
Her detractors have also taken to comments which contain more than a hint of sexism.
"Nicola Sturgeon may wear high heels and a short skirt, but she eats her partners alive," said Sun columnist Trevor Kavanagh on Monday.
Meanwhile, the supposedly left-leaning Mirror said "She's got a natty new wardrobe of suits with matching stilettos and confidence way beyond her abilities."
There are a number of reasons Sturgeon is drawing fire from the establishment.
Last month she hinted she would seek another independence referendum after 2016 that could see Scotland separate from the United Kingdom.
READ MORE: Try, try and try again? Sturgeon hints at another Scottish independence vote
Scotland narrowly voted by 55 percent to 45 percent to stay part of the UK in last September's referendum after Westminster party leaders "vowed" to give the Scottish Parliament more devolved powers.
Amid some backsliding on those pledges by Westminster politicians, however, SNP support has since surged, with the latest polls predicting the party will win at least 43 of the 59 Scottish seats in the UK parliament, effectively wiping out Labour's traditional Scottish strongholds.
The SNP is thus set to become kingmaker in the event of a hung Parliament, when no party gains an outright majority of seats.