​Try, try and try again? Sturgeon hints at another Scottish independence vote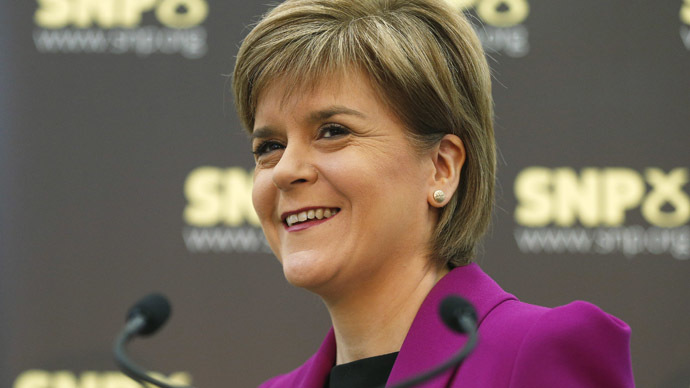 Scottish First Minister Nicola Sturgeon has hinted she would seek another independence referendum after 2016 that could see Scotland separating from the United Kingdom.
The Scottish National Party (SNP) leader suggested an independence vote could appear in the party's manifesto for the 2016 Edinburgh parliament elections.
Scotland narrowly voted by 55 percent to 45 percent to stay part of the UK in last September's referendum after Westminster party leaders "vowed" to give the nation more devolved powers.
Amid some backsliding on those pledges by Westminster politicians, however, SNP support has surged since, with the latest polls predicting the party will win at least 43 out of 59 Scottish seats in the UK parliament, effectively wiping out Labour's traditional Scottish strongholds.
The SNP is thus set to become kingmaker in the event of a hung Parliament, when no party gains an outright majority of seats.
READ MORE: General Election Leaders' Debate LIVE UPDATES
Sturgeon has publicly stated she would support Labour leader Ed Miliband in power, but stressed that she would seek to use the SNP's influence to end further austerity cuts to government spending.
Speaking at the first televised Scottish leaders' debate of the election campaign on Tuesday evening, she said: "We will fight to keep David Cameron out of Downing Street … I'm offering to help make Ed Miliband prime minister."
Fears the party intends to use its influence over Labour to push for a second independence referendum for Scotland gained ground after Sturgeon's tacit admission at the debate.
The SNP leader initially tried to dodge questions about her plans for a second plebiscite.
Asked whether a referendum would be included in the SNP manifesto for 2016, she said: "We will write that manifesto when we get there. I will fight one election at a time [and] I will decide the content of our next manifesto when we get there, and people can decide whether or not they vote for that."
The first minister was booed by some audience members when she said: "If the people of Scotland don't vote for a party with a commitment in a manifesto to a referendum, there won't be another referendum, that's the point I'm making. The people are in charge, not politicians."
In response to Sturgeon's offer of help, Scottish Labour leader Jim Murphy said: "Nicola, we don't need your help."
Media greeting cause Nicola Sturgeon never rulled out another referendum, yet polls say majority want another one - fucking crackpots.

— Gary Docherty (@GaryDocherty5) April 8, 2015
Murphy told the audience the only way to keep the Conservative Party out of government was by voting for Labour.
Sturgeon made clear her plans to influence a Labour government were in the best interests of the UK.
"If there's a strong bloc of SNP MPs, we can make sure Labour keeps its promises," she told the Scottish TV audience.
"Tony Blair was elected on a wave of hope and optimism, but his Labour government began the process of NHS privatization. I don't want to see a Labour government simply implement Tory policies."
Her comments echoed those made by Unite union leader Len McCluskey, who said in a memo seen by the Sun newspaper that British unions would press Labour for "more radical action to end austerity."
The SNP's referendum comments come days after a controversial leaked memo about an alleged conversation between the first minister and the French Ambassador to the UK made national news.
READ MORE: 'Families in firing line': Tories will make deeper child benefit cuts, Labour says
The UK government document, which has been roundly refuted as wholly inaccurate by Sturgeon and the French embassy, quotes Sturgeon as saying "she'd rather see David Cameron" become prime minister.
Published in the Telegraph, the March memo was written by a UK government official after a confidential telephone conversation with France's consul general in Edinburgh, Pierre-Alain Coffinier.
"I have to admit that I'm not sure that [Sturgeon's] tongue would be quite so loose on that kind of thing in a meeting like that, so it might well be a case of something being lost in translation," the UK official wrote.
Both Sturgeon and French diplomats denied the first minister expressed any preference for a British leader.
The first minister demanded an inquiry into the leak, while Cabinet Secretary Sir Jeremy Heywood said he has begun an investigation into how the secret memo became public.
The Telegraph's Scottish editor, Alan Cochrane, accused Sturgeon of hypocrisy over the alleged comments.
Well known for his anti-SNP views, Cochrane wrote that Sturgeon was hoping a Tory victory would "provide the perfect breeding ground for another referendum which would, this time, see the breakup of Britain."
You can share this story on social media: