Scottish First Minister Sturgeon slams 'austerity economics'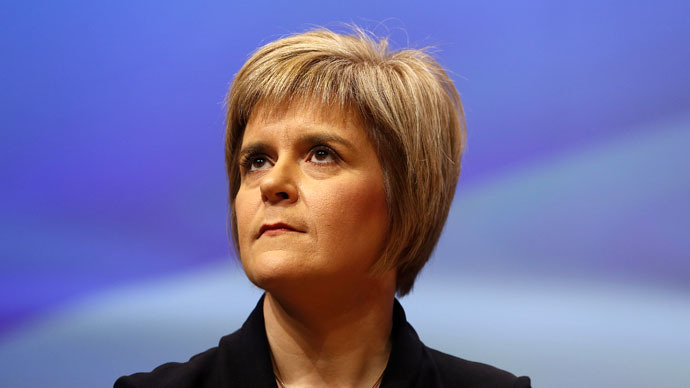 The coalition government's "austerity economics" have completely failed resulting in damage to the UK's economic credibility, Scotland's First Minister will announce on Wednesday.
Prior to the speech in London, in which she will say coalition austerity policies have failed "categorically and comprehensively," Nicola Sturgeon suggested the Scottish National Party (SNP) would back £180 billion of additional spending than the current government by 2020.
Speaking to BBC Radio Scotland ahead of her speech, Sturgeon said she wanted to break "the cozy consensus" that all the major parties display towards continuing austerity. She also said the Labour Party should abandon cuts if they wanted the support of the SNP.
The SNP is expected to win the lion's share of seats in May's general election, recent opinion polls have suggested. Sturgeon used the figures to urge Labour leader Ed Miliband to take a "more moderate" approach to deficit reduction if he wants Labour MPs to have the support of the SNP in Parliament.
READ MORE:Scottish and Welsh nationalists vow to stop Britain leaving EU
She further said she would be in favor of a "modest" increase to public spending, of around 0.5 percent.
"Debt and deficit would still be falling as a percentage of GDP over these years, but we would free up something in the region of £180 billion over the UK to invest in infrastructure, in innovation, in growing the economy," she said.
"I'm not denying that it is important to get the deficit under control and to start reducing the debt," she added, saying it was important not to isolate the deficit from other aspects of the economy.
"What I'm arguing is that to look at deficit in isolation is far too narrow, because although that's important, it's also important to have stronger, sustainable, more solidly-based economic growth, it's important to tackle inequality, it's important to protect public services."
Her speech at University College London (UCL) will highlight growth, productivity and fairness as integral to long-term economic recovery.
READ MORE:New powers for Scotland 'watered down' claim SNP
"The UK government's economic policy has failed: categorically and comprehensively. And not by my reckoning, but on the UK government's own terms," she will say.
"Perhaps most damagingly of all for the UK government's credibility, it has failed to meet its own deficit reduction targets."
"But what the UK government is now telling us is this: austerity hasn't worked, so we need even more of it," she will add.
A spokesperson for Scottish Secretary in UK Cabinet Alistair Carmichael, however, said the current strategy is working.
"All the bombast in the world will not change the reality that the UK government's economic strategy is working.
"Whether Nicola Sturgeon likes it or not, this government has cut borrowing by £52 billion from the level we inherited," they added, saying that the markets had regained confidence and the costs of borrowing and mortgages were at a record low.
You can share this story on social media: