Babies react to pain 'just like adults do,' MRI scans reveal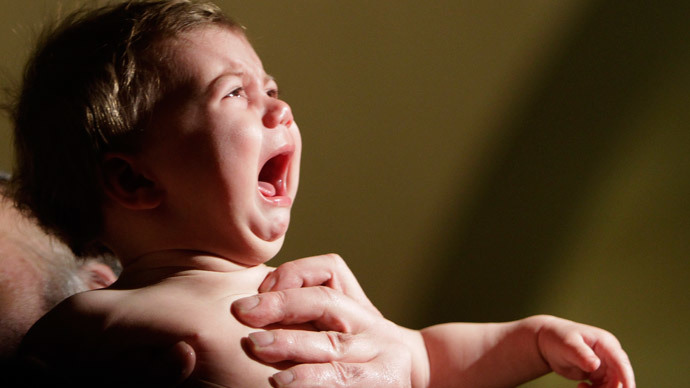 Small babies' brains react in a similar way to adults' when exposed to pain, a new Oxford University study reveals, suggesting infants feel pain just like their parents.
The Oxford University study is the first of its kind to use magnetic resonance imaging (MRI). It discovered 18 out of 20 brain regions active in adults experiencing pain were also active in babies.
The new study focused on 10 healthy infants aged between one to six days old and 10 healthy adults aged 23-36 years old. The adult volunteers were staff or students from Oxford University.
During the examination, babies who were accompanied by parents and staff were placed in a MRI scanner where they fell asleep.
Scans were taken of the babies' and adults' brains while they were poked at the bottom of their feet.
When the scan results were compared, it revealed the two groups were exposed to the same kind of pain stimulus.
In the 1980s, it was a normal procedure for babies undergoing surgery to be given neuromuscular blocks but no type of pain relief.
Until now, medics have assumed a baby's mind is not developed enough to feel intense pain, however this game-changing study has proved otherwise.
Study: 18/20 brain 'pain' regions activate in adults active in babies. Babies more sensitive http://t.co/i0sfakUpmspic.twitter.com/C26GQGDljH

— Oxford University (@UniofOxford) April 21, 2015
The study reveals that newborn minors have suffered in silence and gone through painful periods without any type of painkillers to ease their agony.
The findings from Oxford University doctors prove that babies not only feel pain, but they have a lower pain threshold than adults.
Dr. Rebeccah Slater from Oxford's Department of Paediatrics says it is "obvious" babies are incapable of communicating their experiences of pain, which makes it "difficult to infer pain from visual observations.
READ MORE: Dead newborn's identity stolen by UK police to spy on protesters
"In fact some people have argued that babies' brains are not developed enough for them to really 'feel' pain, any reaction being just a reflex," she added.
Slater said the study provides "the first really strong evidence" that this is not the case, and infants are able to feel pain.
She hopes the revelations from the study "provides incentive to more researchers to find better ways of measuring pain in babies."
Researchers should prioritize the "importance" of providing the best possible pain relief for children, Slater said.
She told Time magazine it is now apparent "for the first time what is happening in babies' brains while they experience something mildly painful" there should be a "big drive" to attempt to treat the pain in the children.
You can share this story on social media: