​'Europe must rise up, do what's right' for Mediterranean migrants – Britain's top clergyman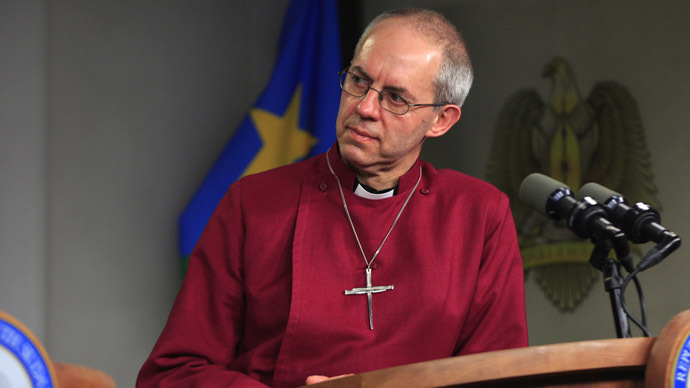 Britain's Archbishop of Canterbury has urged European countries to provide a home for people who risk their lives crossing the Mediterranean Sea, after a fishing vessel loaded with migrants capsized over the weekend.
Justin Welby, who is head of the Church of England, said all of Europe must share responsibility for settling the migrants.
While Welby acknowledged immigration is an issue in British communities, he said the "misery" which forced migrants to flee their countries must be addressed.
READ MORE: EU under fire over migrant crisis after deadly boat capsize
The Labour Party has called on the government to reintroduce search and rescue missions in the Mediterranean.
Search and rescue missions by the UK and other EU countries were stopped last year over fears rescuing migrants could encourage human traffickers.
Reports from Italy indicate the death toll from the weekend's shipwreck could reach as high as 950.
At least 1,500 people are thought to have drowned in the Mediterranean Sea since search and rescue missions were halted last year.
Speaking to the BBC, Welby said: "I think that is absolutely correct – all European countries, no one country can do it by itself."
"We can't say this is one country's responsibility, the one nearest, that's not right.
"This is nothing about the European Union, I'm talking about countries across the region, we need to share the burden.
"Of course we have to be aware of the impact of immigration in our own communities but when people are drowning in the Mediterranean, the need, the misery that has driven them out of their own countries is so extreme, so appalling that Europe as a whole must rise up and seek to do what's right.
"It will be demanding and that's why the burden must be spread across the continent and not taken by just one country or one area."
Labour leader Ed Miliband described the government's opposition to search and rescue missions as "immoral."
Miliband said: "Those dying in the Mediterranean are some of the poorest males, ladies and children in the world.
"We ought to act to cease these awful scenes."
READ MORE: NATO bombing of Libya led to Mediterranean migrant deaths – Farage
UK Independence Party (UKIP) leader Nigel Farage blamed Prime Minister David Cameron for the migrant disasters in the Mediterranean Sea.
He said Britain's decision to bomb Libya during its civil war in 2011 had destabilized the country, making it "virtually impossible" for Christians to live there.
He told the BBC: "We ought to be honest and admit we have directly caused this problem.
"There were no migrants coming across from Libya in these quantities before we bombed the country, got rid of [then Libyan leader] Gaddafi and destabilized the situation."
He added: "I'm the one person that has said that I do think – especially for Christians in that part of the world – they now have almost nowhere to go."