​NATO bombing of Libya led to Mediterranean migrant deaths – Farage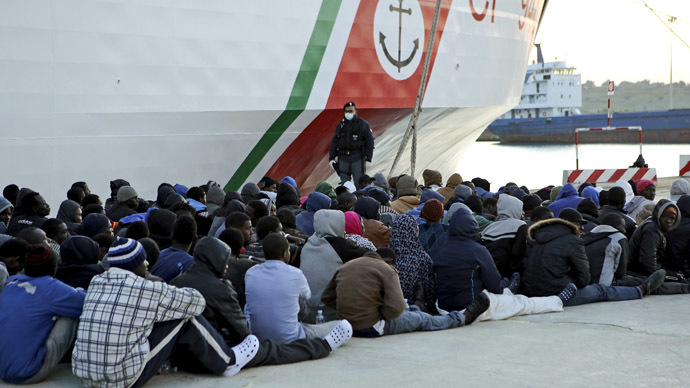 Prime Minister David Cameron is partially responsible for the deaths of hundreds of migrants who drowned off the Libyan coast on Sunday due to his 'fanaticism' in ousting former dictator Mummar Gaddafi, Nigel Farage has said.
The leader of UKIP said Cameron, along with other European leaders, must take some blame for the deaths of the migrants, as their decision to topple Gaddafi lead to the destabilization of Libya.
He added that prior to Gaddafi's fall, fewer migrants from the country attempted to cross the Mediterranean.
Rescue operations are continuing after a boat carrying over 700 migrants sank 60 miles off the coast of Libya, with hundreds feared dead.
The incident follows a similar disaster last week where 400 people drowned.
Farage said: "It was the European response that caused this problem in the first place. The fanaticism of [the former French president Nicolas] Sarkozy and Cameron to bomb Libya – what they have done is to destabilize Libya, to turn it into a country of much savagery and a place where for Christians the situation is virtually impossible.
"We ought to be honest and say we have directly caused this problem. There were no migrants coming across from Libya in these quantities before we bombed the country and got rid of Gaddafi, however bad he may have been."
Other UKIP members have used the disaster as a platform to promote their anti-EU policy.
READ MORE: Hundreds feared dead as boat carrying over 900 migrants capsizes off Libya
Victoria Ayling, candidate for Great Grimsby, told BuzzFeed News the catastrophe could have been prevented if Britain had left the European Union.
Ayling said: "The simple solution is leave the European Union. The reason they're coming over in those boats is because the system allows it that should they land in any European country, they're in the system and they can come over to Britain as if they are EU migrants and have access to everything."
The UN High Commissioner for Refugees, however, blamed the high death toll on anti-immigration rhetoric from European politicians, saying they had blocked attempts to create huge search-and-rescue operations across the Mediterranean.
British Foreign Secretary Philip Hammond expressed his shock and horror at the catastrophe, calling the events "appalling."
Hammond said: "The world is horrified at the appalling loss of life that it is taking place in the Mediterranean and rightly angered by the cynicism of the criminal gangs who are profiting from this people-trade."
"My sympathies go out to those who have lost relatives and friends and to all who are caught up in this vile trade."
"Stopping this needless suffering is a huge international challenge, which demands a comprehensive, coordinated response. We must target the traffickers who are responsible for so many people dying at sea and prevent their innocent victims from being tricked or forced into making these perilous journeys," he added.
European interior ministers and police officials are meeting in Luxembourg on Monday to attend emergency meetings to decide how to best deal with migrant boat disasters.
The meeting was intended to be a routine meeting of foreign ministers and diplomats, but has been turned into a crisis meeting to respond to the outrage at the high levels of migrant deaths in the Mediterranean.
You can share this story on social media: