​Dog 'eats drug stash,' completely loses it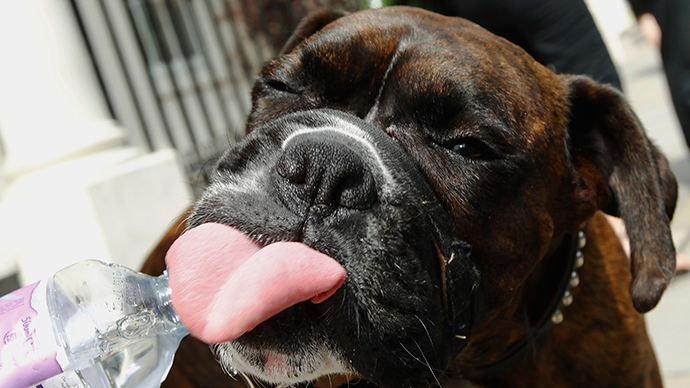 A lurcher breed dog named Twiglet tripped out, salivated excessively, became paranoid and fell over a lot after eating a bag of narcotics he found outside a 'hippie commune' in Shropshire, according to his owner.
Twiglet was out for a walk with his owner, local veterinarian Nick Fisher, in the village of Leintwardine, when he stumbled across a suspicious bag at the village bus stop.
Not the kind of dog to pass up a freebie, Twiglet snaffled the contents without delay.
Little did the 4-year-old hound know that in under an hour he would be banging into walls, falling over and, according to his owner, appear to be running away from imaginary dogs with his tail between his legs.
READ MORE: 'Terrier-ist' puppy banned from going near Cameron for 'security reasons'
Fisher told the Daily Mail: "We went past the bus stop which is just like a seat around an oak tree. A few people often hang out there and drop things like food and so on, so the dogs like to go scavenging around that area.
"He came back in the house and lay down and was tired as you might expect. But then he got up and started running around, doing laps of the room as if he was being chased."
The disturbing sight made even Fisher, an experienced vet, concerned for his dog's welfare.
"When I got hold of him he started shaking uncontrollably, producing huge quantities of saliva and panting excessively."
"He then lost his balance on the laminate flooring and fell onto his side."
READ MORE: Shell shock: Shot meant for armadillo ricochets into mother-in-law
"My wife was obviously quite upset. She's never seen a dog go through anything neurological before. Let alone tripping on drugs."
Fortunately, Twiglet had fully recovered by the next day.
Although a blood test found no traces of recognized narcotics, Fisher said: "There is a bit of a hippie commune up the road. Maybe something was dropped or had fallen out of someone's pocket."
You can share this story on social media: