​'Terrier-ist' puppy banned from going near Cameron for 'security reasons'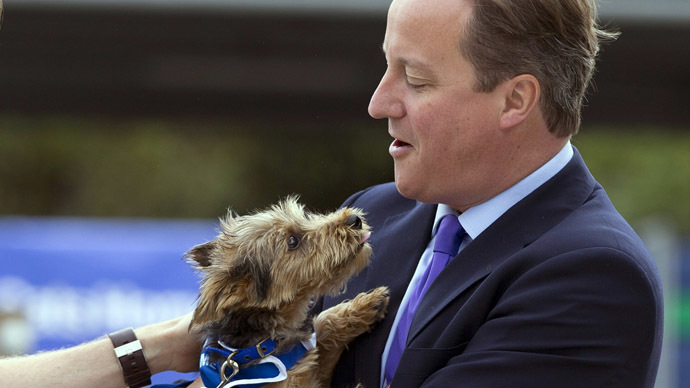 An eight-month-old puppy was banned from going anywhere near David Cameron "for security" reasons on Sunday after the prime minister gave a speech in Cheltenham.
Cameron was visiting Cheltenham to lay out the Conservative Party's plans for inheritance tax in Britain.
When Cameron walked out of the church hall where he gave his speech, he found himself bombarded by a crowd of TV crews and voters waiting to speak to him.
Passer-by Sarah Styler, 49, approached the scene with her dog, hoping to speak to the PM, but was shocked to discover she could only talk to him if her dog was removed from the vicinity.
READ MORE: Forked over: Posh-boy Cameron mocked for eating a hot dog with cutlery
Tory aides urgently took the Jack Russell and poodle cross-breed away from Styler and escorted him across the road to be a "safe distance" from Cameron "for security purposes."
Once at ease, Cameron briefly spoke to the crowd of voters, and commented on the sunny weather before heading off in his car.
"The prime minister loves dogs, but it was just for security," a Tory aide told Styler when he returned the dog to her.
Styler, the head of polo at Cheltenham College, found the ban on her dog meeting Cameron "quite funny."
@johnestevens@ostercywriter "The Tales of Cameron On The Road" are more Bizarre everyday.

— peopleman (@peopleman44) April 12, 2015
She told the Mail Online: "It's quite funny that they did not want Silver near the PM, but I guess as an eight month-old Terrier poodle he is quite a security threat."
Styler said she was "surprised the MI5 aren't getting involved."
Many on social media found the dog ban amusing. On Twitter, one user said: "This is hilarious, did Cameron think the dog was a terrorist?"
@johnestevens@carmella101 It's for the dog's own safety, in case he gets rabies, the dog that is. I'm sure Cameron has distemper also.

— Lord Reith of UKIP (@mycroft186) April 12, 2015
Another user said the ban was "for the dog's own safety in case he gets rabies" from the PM Prime.
@johnestevens@SuzanneEvans1 Well he would make a better lamp post than a Prime Minister

— Barbara Kennedy (@carmella101) April 12, 2015
Given what a 5yr old girl did to him I suppose you can see it. 8mth old puppy deemed a 'security risk' to Cameron http://t.co/K7vsE8jG88

— Peter Savage (@pcsavage) April 13, 2015
"Perhaps it was a terrier-ist?" one user joked.
It appears Cameron either has a phobia of dogs, or simply has bad luck with them. In 2013 when he visited the Battersea Dogs home, a canine wriggled out of his arms after a second of him holding it.
Here's a lovely picture of David Cameron with a puppy, just before he ate it. #NationalPuppyDaypic.twitter.com/aa2Z6VTo7B

— Carl Maxim (@carlmaxim) March 24, 2015
Cameron is a cat owner. The Downing Street cat Larry moved into No. 10 shortly after the PM did.
You can share this story on social media: