Shell shock: Shot meant for armadillo ricochets into mother-in-law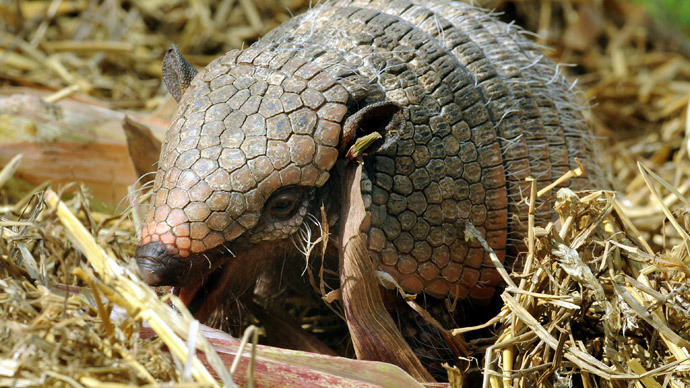 A Georgia man found a new way to deflect blame after shooting his mother-in-law: He said an armadillo was at fault. Indeed, the armored animal was the target of the son-in-law's bullet... but it ricocheted off the armadillo, hitting the mother-in-law.
Larry McElroy, 54, was outside when he took aim at the offending armadillo with his 9mm pistol, the Lee County Sheriff's Office told WALB.
The armadillo was not faster than the speeding bullet, which ended up being more powerful than McElroy expected, as it leaped off a fence and into a building on his property.
The strange visitor from McElroy's gun flew into the door of his mother-in-law's mobile home ‒ about 100 yards away from where he was standing ‒ through her recliner and nestled into her back.
Carol Johnson, the 74-year-old mother of McElroy's wife, was not severely injured. The armadillo, however, was pronounced dead at the scene.
"She was walking around on her own power and talking," Lee County Sheriff's Investigator Bill Smith told WALB. "It didn't appear to be too severe."
Johnson was taken to a nearby hospital Sunday night.
"Just the circumstances, just all the way around, the whole situation was unusual," Smith said.
Oops: Man shoots at armadillo, bullet hits mother-in-law instead http://t.co/9avFwokluGpic.twitter.com/XadngIU7gs

— WALBNews10 (@WALBNews10) April 13, 2015
McElroy didn't necessarily have the wrong idea when it came to shooting the armadillo; he and Johnson may just have gotten unlucky.
James Morgan, the Dougherty County Extension Coordinator, told WALB they actually recommend shooting armadillos for residents that live in the county.
"At first I ask if [callers] live in the city or county, because shooting is an effective way of getting rid of them. However, you have to be safe when you do that," Morgan said.
Armadillos are considered a nuisance to some homeowners because they dig for food, which can destroy a flower bed, Scott Frazier, a Georgia Department of Natural Resources wildlife biologist, told Fox News.
Smith recommended using a shotgun instead of a pistol, though.
"I really think if they're going to shoot at varmints and whatnot, maybe use a shotgun... with a spread pattern with a lot less range," Smith said.
Morgan advised using traps or grub pesticides to get rid of pesky 'dillos.
No charges were filed in the case, and the armadillo's family could not be reached for comment.