​UKIP candidate apologizes for saying Lib Dem 'deliberately caught HIV'
Published time: 10 Apr, 2015 16:12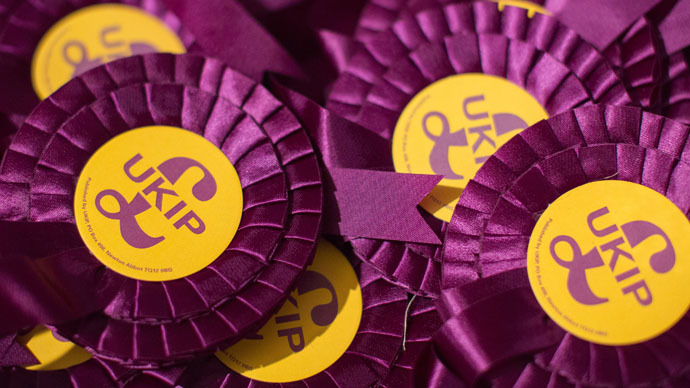 A UKIP candidate has been forced to apologize to a Liberal Democrat parliamentary hopeful for suggesting he had contracted HIV on purpose.
Patricia Culligan, who is standing in the key seat of Eastleigh, Hampshire, said Paul Childs, who is running as a Liberal Democrat for Liverpool Riverside, had caught the disease on purpose. Childs has publicly spoken out about living with the condition.
Culligan later tweeted a link to an article in the local Liverpool press containing Childs' story, saying: "2nd Lib Dem candidate reveals he deliberately became HIV positive yet free NHS care v costly."
READ MORE: 'New level of ignorance': UK charity blasts Farage's call to ban HIV-positive migrants
The tweet immediately faced heavy criticism, both because Childs had made no such admission and also because of Culligan's comments on the cost of treating those who suffer with the extremely serious disease.
Culligan later took to Twitter again in an effort to atone:
"I sincerely apologize for any totally unintended offence due to a mis-reading of the ... article. I have nothing but sympathy 4 sufferers."
Speaking to the Daily Mirror newspaper, Childs blasted the UKIP parliamentary hopeful.
"It's completely ignorant," he said. "How can she represent HIV positive people in Eastleigh making comments like that? I don't accept her apology because it shows her ignorance and I think it's a bit of an empty apology."
He added: "She only apologized when the BBC approached her and the party forced her to apologize. It took her more than 24 hours to retract what she had said."
UKIP is relatively new to the limelight as a prominent national party, but has an embarrassingly long track record of blundering and jaundiced commentary when it comes to HIV and AIDS.
Only last week, party leader Nigel Farage was rounded on by his political rivals for his comments on AIDS during a much hyped election debate.
"You can come to Britain from anywhere in the world and get diagnosed with HIV and get the retroviral drugs that cost up to £25,000 per year per patient," he said during the debate.
"I know there are some horrible things happening in many parts of the world, but what we need to is put the National Health Service there for British people and families who in many cases have paid into this system for decades."
READ MORE: 'Farage talking bollocks': Doctor who survived testicular cancer challenges UKIP leader to 'one-ball to one-ball' NHS debate
In October last year his call for HIV positive people to be banned from migrating to Britain attracted similar levels of censure.
Farage claimed such a policy would mark a positive start to introducing stricter immigration controls in Britain.
The UK's oldest and most established HIV charity, the Terrence Higgins Trust, told RT the UKIP chief had demonstrated an "outrageous lack of understanding."
The organization, which raised £90,000 for HIV positive people in the UK at a charity event on Thursday, added Farage should be "truly ashamed" of himself.