'Farage talking bollocks': Doctor who survived testicular cancer challenges UKIP leader to 'one-ball to one-ball' NHS debate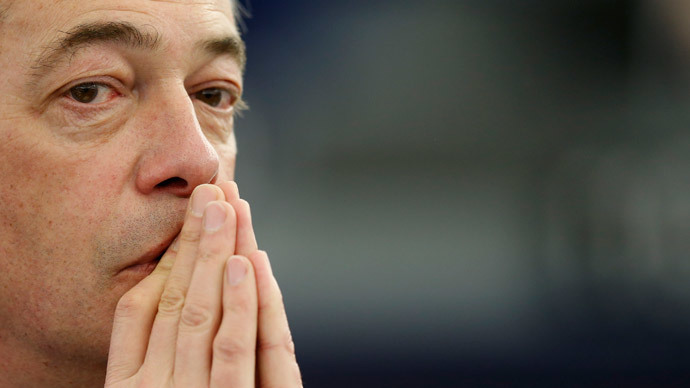 A doctor has attacked UKIP leader Nigel Farage over claims the National Health Service (NHS) almost killed him when he developed testicular cancer. Calling the claim "bollocks," he challenged Farage to a debate on the future of the health service.
In his recently published autobiography, "Purple Revolution," Nigel Farage blames the NHS for "fobbing" him off onto different doctors for two months before his testicular cancer was diagnosed.
"Several doctors examined me – registrars, locums, all that lot – and they came to the conclusion that I had a twisted testicle. I would need an immediate operation, they said," Farage wrote.
"An Indian doctor told me that the Bromley doctors had got it all wrong: I had an infection. I was to go home and take a heavy dose of antibiotics. I did not need an operation after all. A few weeks went by and the pain was just as bad. All the time, my left testicle was getting markedly larger," he added.
But Dr John Lamport, who plans to stand in the election in Nottingham for the National Health Action party, accused Farage of using his experiences to undermine NHS state medical care, calling it an "amateur self-diagnosis."
The doctor himself also lost one testicle to cancer and said the experience inspired him to become a doctor.
READ MORE: 'Dishonest & incredibly stupid': UKIP MEP suspended over dodgy expenses claim
Lamport invited Farage to meet him "one-ball to one-ball," so he can explain why his argument doesn't wash.
In a piece for Open Democracy, Lamport said that while he may not have much in common with Farage: "We do share one thing. Literally. We each lost a testicle to cancer – and we probably both hear the same jokes about it too."
"There the similarity ends," he writes. "My gratitude to the NHS for saving my life led me to become a doctor. His anger at it for "nearly killing" him led to a lifelong disdain – except for emergencies, since it twice saved his life. Now he is arguing you're better off going private. As a doctor, I'd say his diagnosis is dead wrong."
"Nigel Farage likes a good debate I'm told, so here's my offer. Head-to-head, one-ball to one-ball, let's really hammer out what Nigel is selling the British public and why it's bollocks."
He accuses Farage of inconsistencies in his story, and rejects the use of an anecdote as legitimate grounds to condemn the NHS.
He also said there is a medical protocol that doctors treating Farage would have had to adhere to when diagnosing him.
"Nigel has twice told the story of his cancer in print, four years apart and significantly different in detail. I can't pronounce on his case but I do know his amateur self-diagnosis – 'all they had had to do that first night in A&E was to have me referred for a scan' – is bollocks."
Following Farage's revelation, many social media users took the opportunity to liken the UKIP leader to Adolf Hitler, who, according to the lyrics of a popular wartime song, suffered a similar testicular deficit.
One candidate for the Green Party, Jenny Ross, apologized for the jibe after it was picked up by political blogger Guido Fawkes, provoking torrents of abuse.