​Culture of fear: Suspicion of Muslims growing, survey suggests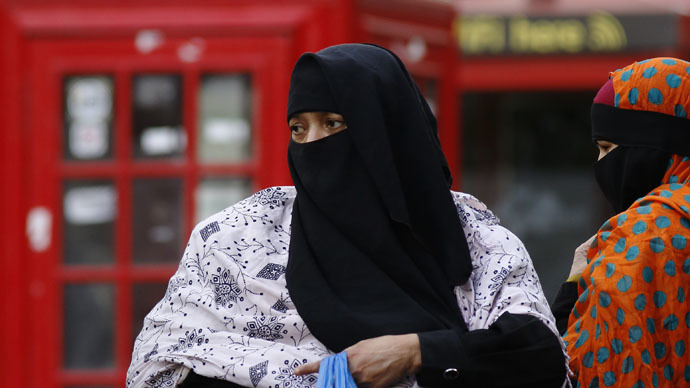 Community relations between Muslims and non-Muslims in the UK have deteriorated in recent years due to higher levels of suspicion and hostility, a new survey has found.
One-third of British Muslims say they experience more distrust in their community than they did a few years ago, while some 44 percent of non-Muslims in the UK said they feel more hostility towards the religious community.
The survey of 1,000 British Muslims found nearly three-quarters believe Islam is compatible with British society.
When the same question was put to non-Muslims in the UK, pollsters found 52 percent believe the religion is not compatible with British values.
The opinion poll, conducted by Survation for Sky News, revealed an apparent breakdown in trust between Muslims and non-Muslims.
Some 33 percent of Muslims said they "receive more suspicion from non-Muslims than [they] did a few years ago."
READ MORE: Islamic extremists recruiting inside prisons, staff cuts to blame – ex-counter terror chief
Of the Muslims who believe their values are aligned with those of Britain, 78 percent were male compared to 64 percent who were female.
Younger Muslims were also more likely to approve the statement that Islam is compatible with British society.
Some 73 percent of those aged 18 to 34 agreed with the statement, compared to 71 percent aged over 55.
British Muslims' attitudes towards Islamic extremists and the UK intelligence services were also questioned in the survey.
The survey found opinions of young Muslims who flee to join Islamic State (also known as ISIS, or ISIL) in Syria are mixed.
Some 11 percent of Muslim women said they had "a lot of sympathy" for young jihadists, while the same figure was 5 percent for men.
The majority of British Muslims expressed "no sympathy" with young jihadists.
When non-Muslims were asked the same question, 4 percent of men and women expressed sympathy for those joining extremist groups.
Both Muslims and non-Muslims in the UK were more likely to see families as being responsible for preventing young people absconding to Syria.
Sky News said the survey is the first of its kind, setting out to determine what Muslims and non-Muslims think about controversial issues relating to radicalization, security and prejudice.
Some 39 percent of Muslims believe "the actions of police and MI5 contribute to the radicalization" of youth, the poll found.
What we're actually saying is MI5's role in radicalisation SHOULD be examined & that they aren't above the law. They should be answerable.

— Jammy Dodger (@mrjammyjamjar) April 10, 2015
The high levels of distrust towards British police and intelligence services could be related to disproportionate police interference in black and Asian communities.
According to a report by the Equality and Human Rights Commission, black people were six and a half times more likely to be stopped by police on suspicion of links to terrorism in 2008/09.
Asian people were five times more likely to be stopped under section 44 of the Terrorism Act, a law which has since been repealed.
A separate report published last year by researchers at Bristol University found Muslims face the worst job discrimination of any minority in the UK.
You can share this story on social media: