​Islamic extremists recruiting inside prisons, staff cuts to blame – ex-counter terror chief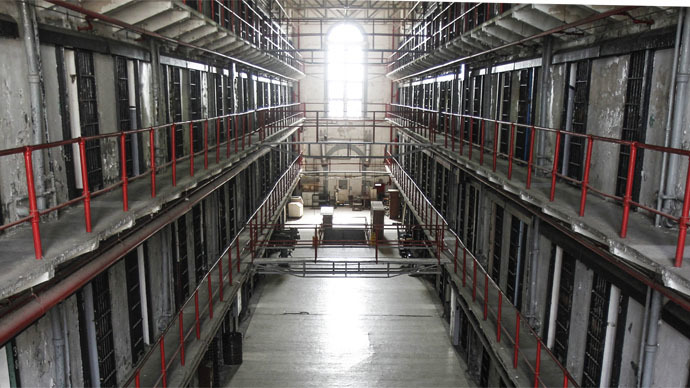 Staff cuts in England's prisons mean Islamic extremists are not properly monitored and are able to recruit others, the former head of the Britain's National Counter Terrorism Security Office has warned.
Chris Philips said prison guard shortages are making it more difficult to prevent Islamic radicalization among inmates.
The former counter terrorism chief cited concerns over a growing prison population and the inability to ensure vulnerable inmates are protected from Islamic radicals.
But Justice Secretary Chris Grayling said he found "no evidence" to support Philips' claim, insisting the government kept a "very careful watch" on the issue.
Official data indicates there are more than 12,000 Muslims in jails across England and Wales. A total of 91 were convicted of terrorism-related offenses.
Philips said a growing prison population combined with staff cutbacks presents a real concern.
Leeds still the most overcrowded prison in England & Wales. Designed to hold 669 prisoners, it actually holds 1,179. pic.twitter.com/rNVaUZqgZs

— The Howard League (@TheHowardLeague) March 13, 2015
He told the BBC: "We have less officers generally in prisons than ever before and we also have less police officers to deal with them, so what we have is a growing haystack of extremists where we still have to find the single needle that's going to go off and do something really nasty."
"But of course we've got less people to go and look for them as well so it's a really difficult thing for the police service and prison service to deal with."
"The answer is to get into the prisons and to make sure the most susceptible people are kept away from those that might turn those into extremists and, at this moment, we cannot even keep drugs out of prison, we can't keep mobile phones out of prison, so clearly there is not enough staff to do that," he said.
Previous research into the experience of Muslim prisoners conducted by the former chief inspector of prisons suggested converts to Islam are more susceptible to being radicalized.
However the same report also found many Muslim prisoners face discrimination from prison staff and are frustrated with being perceived as a "high risk group."
At the time of the investigation's publication in 2010, prison guards' only training related to Muslim prisoners was focused on violent extremism and radicalization.
UK Justice Secretary Chris Grayling said the government has increased spending to prevent radicalization in prisons.
READ MORE: UK Muslims sign public statement against Islam 'witch-hunt'
He also insisted prison overcrowding was "virtually" at its lowest level for a decade.
Home Secretary Theresa May also denied that staff shortages in prisons were making it harder to stop Islamic radicalization.
However, former prisoner John Shelley told the BBC he witnessed an increase in the number of radicalized inmates while incarcerated, some of whom were plotting terrorist attacks and endorsing Islamic State and al-Qaeda.
Shelley said: "Over the last few years there's been a real sort of noticeable change of people becoming radicalized and getting themselves involved in violent situations – and being coerced into doing that by some of what you might call the more prominent Muslims that are inside for various offenses."
He added: "Extremism – it's grown and grown by the day and they've found themselves in a situation where they can't separate anyone because wherever they separate them to, they're just mixing them with other people who have the same view and same sort of message."
A report by the Howard League for Penal Reform published last year found the number of officers in public sector prisons in England and Wales had been cut by 41 percent between 2010 and 2014.
The number of officer grade prison staff had dropped from 24,000 in August 2010 to 14,170 in June 2014.
You can share this story on social media: