​Olympic judo athlete faces UK deportation, fears being killed for 2012 Games defeat
Published time: 7 Apr, 2015 16:11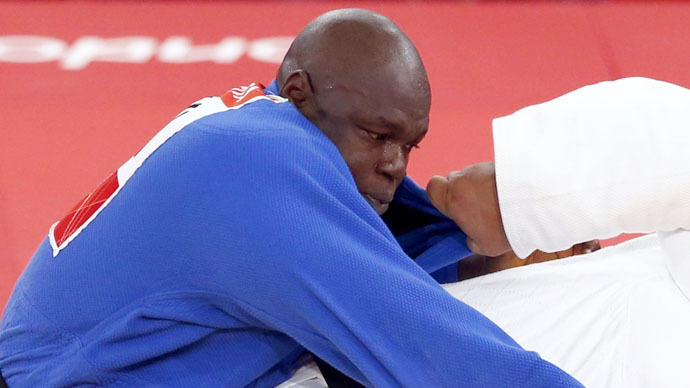 An Olympic judo athlete who sought asylum in the UK is facing deportation to Guinea. Facinet Keit chose to remain in the UK following the London 2012 Games after receiving death threats and accusations of "fighting like a baby."
Keit, 31, disappeared from the Olympic village after he lost his judo bout within 5 minutes to his opponent Ricardo Blas Jr, from Guam, in the Men's 100+ kg judo category on August 3, 2012.
His UK visa ran out a few months later in November. Keit handed himself in to authorities instead of returning home to Guinea, where he has been called a "disgrace" to the country.
He spent 15 months in UK immigration detention centers before being released. He then volunteered for an asylum seeker charity and coached judo in Stoke-on-Trent, Staffordshire, where he has been living since March 2014.
He is now facing deportation after filing his third application for asylum after his initial two bids and an appeal were refused.
"I do not want to return home," he told the Telegraph. "I am afraid of what people will do to me after losing at judo. I've heard people want to do bad things to me. I am scared of going back and I feel safe here. If I go back to Guinea I might be killed."
"My coaches told me I had lost the fight like a baby and that I didn't even fight. They said I embarrassed my country and I would be in big trouble when we are at home."
READ MORE: Homeless Sierra Leone athlete seeks UK asylum after family killed in Ebola outbreak
He said after things got "more serious" he decided to stay in Britain and leave everything in Guinea behind, including his children, his mother and brothers. "I knew I had to stay in Britain to save my life."
"Now I feel I am with my family here. I lost my dad in November and the people here acted as if it was one of their family members who had passed away."
He said his wife had left him while he was in the UK because she couldn't wait for him.
"I want to be near my family and I want to see them but I can't. People who think people come here to get money are wrong. Some people might do but not all. Not me. I'm here for safety but they look like they will just send me home where I'll be in danger."
An independent immigration judge ruled that Keit does not qualify for asylum, as he does not need protection from the UK government.
A Home Office spokesman said: "The UK has a proud history of granting asylum to those who need our protection and we consider every claim on its individual merits.
"When someone is found not to need our protection, we expect them to leave the country."
The African Social Health Agency (ASHA) is supporting Keit, however. Its coordinator, Godfrey Seminega, said: "We will campaign to keep Facinet in this country but we are waiting for the Home Office to rule on his future first."