Sussex students vote overwhelmingly to boycott Israel goods over Gaza conflict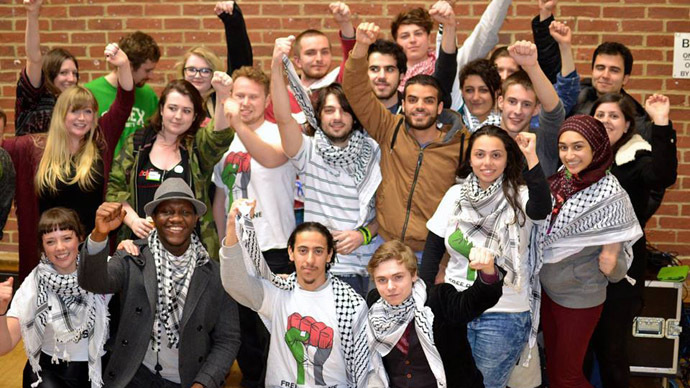 Students at Britain's University of Sussex have voted overwhelmingly in favor of boycotting Israeli goods on campus in response to the conflict in Gaza last summer.
The referendum requires the commercial arms of the students' union, such as shops and restaurants, to stop buying products made in Israel.
It also means the students' union will intensify its lobbying of the University of Sussex in the hope that the institution will join the boycott.
The referendum saw 806 students, 68 percent of all votes cast, vote in favor of joining the boycott, divestment and sanctions (BDS) movement.
Some 373 students voted against the proposition, which follows a similar vote from students at the School of Oriental and African Studies (SOAS) in London earlier this month, which backed an academic boycott of Israel.
Speaking to RT, Roua Naboulsi, an English Literature and Media Studies student involved in the BDS campaign, said the run-up to the vote was a "very stressful and tiring" time.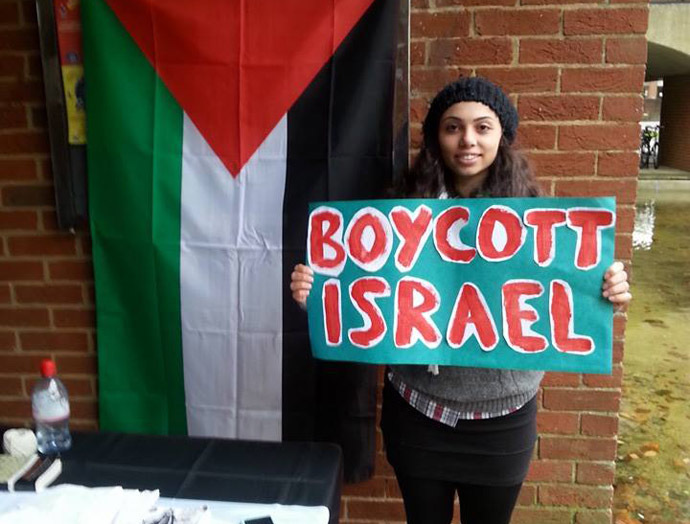 "We were constantly campaigning. We were on campus every day for five hours," she said.
Naboulsi, 20, said a large part of the campaign was about educating students.
"So many people don't know what's happening in Palestine," she said.
Involved in the Palestine support movement for three years, Naboulsi said student involvement in the cause had spiked since Israel's military operation in Gaza last summer.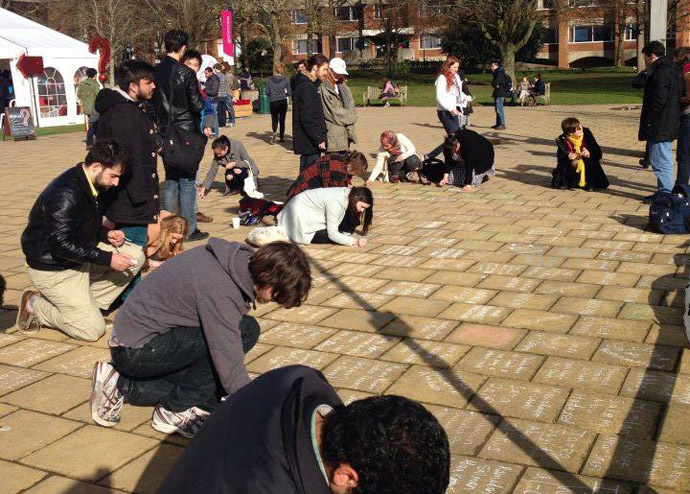 The United Nations reports that 2,220 Palestinian civilians and 66 Israeli soldiers died in the conflict, which lasted for six weeks.
The University of Sussex's Friends of Palestine Society saw its number of regularly active members increase from five to 20.
Naboulsi, who is of Lebanese descent, said the BDS campaign experienced no hostility from people with opposing views on campus.
READ MORE: Full academic boycott of Israel: SOAS students vote overwhelmingly in favor
"We expected some [hostility] but we got barely any. We didn't have much of an opposition either," she added.
By the end of the week's campaigning only one pro-Israel student was left to represent the counter view, she said.
Michael Segalov, Communications Officer at Sussex Students' Union, said the student body was joining a "growing number of Unions, including the National Union of Students, to take such action."
Speaking to RT, he said: "As a democratic organization, all Students' Union policies come from our membership. With nearly 70 percent of students voting to endorse the BDS movement, this is a clear sign of what Sussex students want."
"Over the coming weeks, we will be working closely with students at Sussex to put our policies into action, including lobbying the University of Sussex to follow our lead. We are already identifying contracts that [the] University has, and relationships with organizations, that we hope to be reviewed," he added.