Remix the rich! Russell Brand & Cassetteboy mock the Tories & UKIP (VIDEO)
Published time: 30 Mar, 2015 16:02
Edited time: 30 Mar, 2015 16:03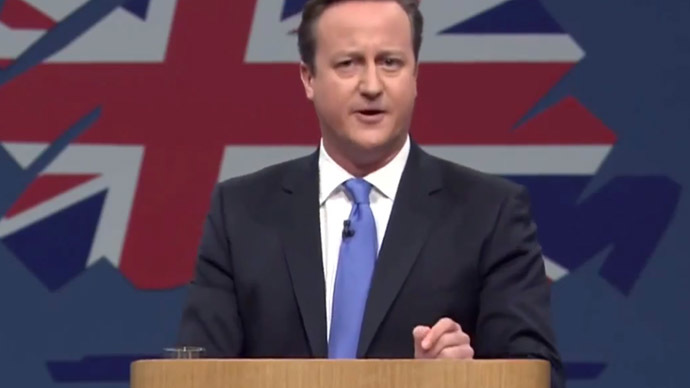 Famous for remixing Prime Minister David Cameron's conference speech, Cassetteboy returns to political satire, this time teaming up with Russell Brand to create a promotional remix for the comedian's new documentary.
Cassetteboy, who has over 100,000 followers on YouTube, is famous for cutting and editing speeches to turn seemingly innocuous phrases into hilarious videos.
In the new video, Cassetteboy has spliced together speeches from David Cameron, Chancellor George Osborne and UKIP leader Nigel Farage to create a witty but damning critique of the distribution of wealth under the coalition government.
In the clip, titled "The Emperor's New Clothes rap," Cameron, Osborne and Farage exhibit pleasure at the misfortunes of the poor.
Cameron reveals his glee at the financial successes of the wealthiest sectors of society, with Osborne sharing his sentiments, saying: "We will take interest in the richest / Let us make the poor their bitches."
READ MORE: Labour's Ed Miliband tops polls as favorite for prime minister
Farage raps about UKIP's desire to "push migrants on a boat" to make them leave the country, as UKIP is "the only party that believes in social mobility."
The parody has been released to publicize Brand and Michael Winterbottom's film collaboration, "The Emperor's New Clothes," dubbed a "polemical documentary."
The film is released in cinemas just two weeks before the UK general election, on April 24, and will feature interviews, archive footage and comedy to "reveal the bewildering truth about how the people at the bottom are paying for the luxuries of those at the top."