Labour's Ed Miliband tops polls as favorite for prime minister
Published time: 27 Mar, 2015 16:32
Edited time: 28 Mar, 2015 00:03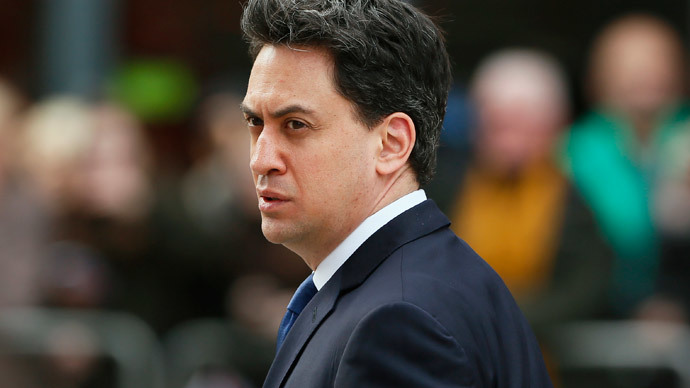 Ed Miliband could clinch an election victory from the jaws of defeat, new research suggests. The news will be welcomed by the Labour leader, who is widely thought to have performed worse than PM David Cameron in the latest TV interviews.
New findings from research group Populus suggest that recent political events have not hugely swayed public opinion, and when calculating post-election coalition and non-coalition scenarios, Miliband comes out as prime minister 77 percent of the time.
The Populus group have created the Predictor, a computer model which analyses polling and other data, to create probabilities of different post-election scenarios.
The company's managing director, Rick Nye, wrote in the Financial Times that announcements such as David Cameron's decision not to run for a third term had not swayed voters much.
Nye said that existing trends were continuing, with the two main parties "virtually level-pegging" in terms of seat projections. The group calculated that Labour are currently predicted to win 275 seats and the Conservatives 274.
"The number of simulations in which each is the largest party is all but equal, however Ed Miliband ends up as prime minister 77 percent of the time, against David Cameron's 23 percent, because of the wider range of coalition partners the Labour leader has to choose from," Nye said.
READ MORE: Alex Salmond accused of 'sabotage' after vowing to block Tory reelection
"Potential turning points — the row over televised leaders' debates, the budget, even David Cameron's pledge not to seek a third term — have come and gone, leaving the general public resolutely unmoved," he said.
Nye said there was a 25 percent chance that the Conservatives would end up as the party with the most votes and largest number of seats, but not the party in government – a situation that last happened in 1923.
Labour's Miliband took part in a dual-interview broadcast with veteran journalistJeremy Paxman and PM David Cameron on Thursday evening. The two party leaders faced a grilling from Paxman,as well as questions from the studio audience.
Miliband has been viewed by some as having "lost" the contest, with certain commentators calling out Paxman's brutal interviewing style.
At one point Paxman asked, "Are you OK, Ed?" after Miliband seemed to crumble under the pressure.
The Labour leader, however, condemned Cameron's performance, calling him "rattled."
Speaking after the broadcast, Miliband said: "Asked about the soaring use of food banks? He says it's not because of the bedroom tax or falling living standards or payday lenders. It's because of more effective advertising by the government."
"Asked about the explosion of zero hours contracts? He says it's not because of the growth of low-paid insecure work on his watch. It's really because people want zero hours contracts."
"But then he says oh no, he couldn't live on a zero hours contract."
"I say, if it's not good enough for you, prime minister, it's not good enough for the people of Britain."