Spy sting foils factory worker's plot to sell UK nuclear secrets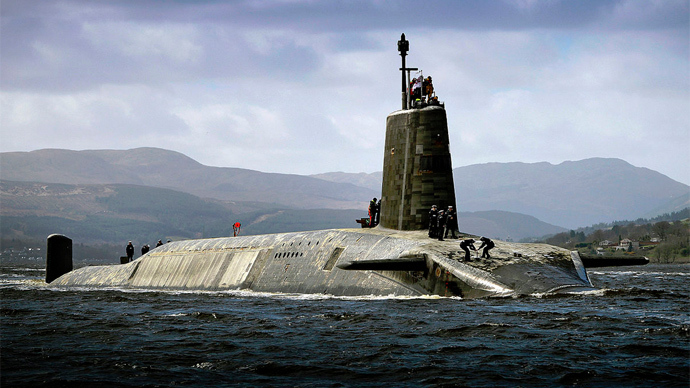 A factory worker who stole secret documents detailing sensitive information about British nuclear submarines and attempted to sell them to government officials in Eastern Europe has been sentenced to four-and-a-half years in prison.
Marcin Kostrzewa, 32, approached the Polish embassy in 2014 and tried to flog the sensitive documents along with other information to staff based there for £50,000.
However, Polish officials tipped off UK intelligence services who later caught the amateur spy in a meticulously planned sting operation.
Kostrzewa claimed during his trial in Plymouth Crown Court that he had plotted to steal the documents as research for a spy thriller he was hoping to write. He also denied burgling his neighbor's flat, claiming he had stumbled upon the papers in a bin.
Nevertheless, the jury found him guilty of burglary by a unanimous verdict in less than an hour.
Recorder John Williams, who sat at the proceedings, said Kostrzewa was a "calculating and clever" man far from the "bumbling fool" he portrayed himself as.
READ MORE: 'Russian spy ships' loitering off UK coast, claims ex-Navy chief
The court heard Kostrzewa broke into the apartment of 25-year-old Shane Spencer in 2014. Spencer was working as an engineer for the UK-based firm Babcock at a naval base in Devonport, Plymouth at the time.
On occasion, the young engineer ferried home documents to work on, and sometimes kept them in his airing cupboard. Upon discovering the data, Kostrzewa stole it and brought it to the Polish embassy in London.
Because the documents were restricted, their release could have jeopardized UK military operations at home and abroad, the court heard.
After Kostrzewa had taken the files, a British spy known as 'Alex' met him in a hotel suite rigged with bugging devices.
Under the assumption that Alex was a Polish secret agent, Kostrzewa demanded £50,000 for the information, declaring: "This is only the beginning."
Kostrzewa's neighbor Spencer was unaware at the time that the documents had been stolen.
READ MORE: 'Wrap up Trident!': Protest in London against £100bn nuke replacement plan
In a statement read to the court, Spencer said he was forced to bear "embarrassment and gossip" after Babcock suspended him in April 2014.
He said he later resigned from his position with the company, and hopes to start afresh as he awaits elite-level security clearance in the wake of his suspension.
The 25-year-old added the case shattered his chances of securing his "dream shop," and had jeopardized his future.
It emerged during proceedings that Kostrzewa had previously been convicted in his home country for burglary, extortion, robbery and perverting the course of justice.
Recorder John Williams said in his judgement: "You are not the bumbling fool you have sought to portray in your evidence. In my view you are both calculating and clever."
He added that the release of the documents could "affect military operations," despite the fact Kostrzewa had attempted to sell them to a government allied to Britain.
The documents he pilfered were marked "restricted" out of five possible security classifications – ranked below "top secret" and "secret."