Cameron vows 'no third term' as PM, will remain in politics
Published time: 24 Mar, 2015 00:16
Edited time: 24 Mar, 2015 00:18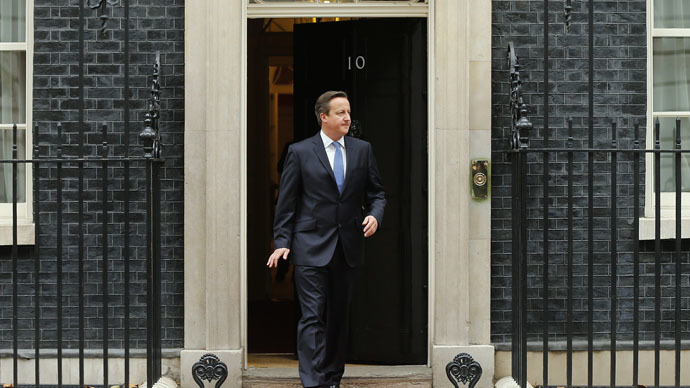 British Prime Minister David Cameron has ruled out serving a third term if the Conservative Party is re-elected in May's general election. Though the PM said he simply hopes to end his role, the statement triggered accusations of political arrogance.
"I'm not saying all prime ministers necessarily definitely go bad, or even go bad at the same rate, but I feel I've got more to bring to this job, the job is half done, the economy's turned round, the deficit is half down and I want to finish the job," the politician told BBC in an interview.
Regarding his future role, Cameron has only revealed that he wants to continue being an MP.
#Cameron's 'bombshell' - front pages http://t.co/S2CK9koU9S#news

— Live Breaking News (@mywabot) March 24, 2015
"There definitely comes a time where a fresh pair of eyes and fresh leadership would be good, and the Conservative Party has got some great people coming up: the Theresa Mays, and the George Osbornes, and the Boris Johnsons. You know, there's plenty of talent there. I'm surrounded by very good people. The third term is not something I'm contemplating."
But Shadow Foreign Secretary Douglas Alexander was quick to lash out at Cameron's statement, also noting that he could become less popular among voters in the May polls – and therefore may not even serve a second term.
"It is typically arrogant of David Cameron to presume a third Tory term in 2020 before the British public have been given the chance to have their say in this election," shadow foreign secretary Douglas Alexander said.
How arrogant is Cameron?! Didn't win in 2010, wont win 2015 and already talking about 'letting someone else try' in 2020! #CameronMustGo

— Luke Cresswell (@LukemCresswell) March 23, 2015
Cameron says he wont stand a 3rd term if re-elected! Everyone else is hoping he isnt elected a 2nd term!! #toriesOut#CameronMustGo

— David Athorn (@dathornblade) March 23, 2015
Meanwhile, the prime minister has been battling against dropping popularity since December, which was intensified by the Twitter campaign #CameronMustGo. The goal of the social media campaign, which gathered around one million mentions on Twitter, was to oust the Conservative Party leader.
READ MORE: #CameronMustGo viral on Twitter, outstrips Scottish independence #VoteYes
Cameron has been criticized on several points in both domestic and international domains.
"Sadly under David Cameron, we have witnessed the greatest loss of influence for the United Kingdom in European and international affairs in a generation," said Alexander. "Given the ever greater drift to Euroscepticism in the Conservative party, the country has lost influence not only in Brussels but also in Beijing, Moscow and Washington."
David Cameron, the man who couldn't win a majority in 2010 and won't in 2015, rules out a third term as PM after 2020. A tad presumptuous?

— Kaya Burgess (@kayaburgess) March 23, 2015
The British prime minister was called out for being too cozy with big business and giving North Sea oil companies tax breaks, while not investing enough money in the National Health Service or education.
Cameron also got caught up in the pedophile scandal, after MP Simon Danczuk accused the PM and deputy PM Nick Clegg of covering up the facts of child sex abuse.
The prime minister faced heat for actively supporting the military operation in Libya. Back in 2011, he visited Tripoli with France's then-President Nicolas Sarkozy to declare victory over Muammar Gaddafi's regime in what turned out to be premature celebrations with the rebels. Heavy criticism flowed in after his visit, as fighting in Libya was still in full swing.
On top of that, Cameron received greater disapproval after Islamic State (formerly ISIS/ISIL) attacks killed Coptic Christians in Libya in February.
One of the latest accusations against Cameron revolved around him not stepping up and participating in Ukraine talks when the French president and German chancellor visited Moscow and Kiev.
Just last week, Cameron said the chances of the UK holding a referendum on the country's European Union membership in 2015 were "pretty slim." The statement followed earlier calls by figures such as London Mayor Boris Johnson to bring forward the 2017 in/out referendum.